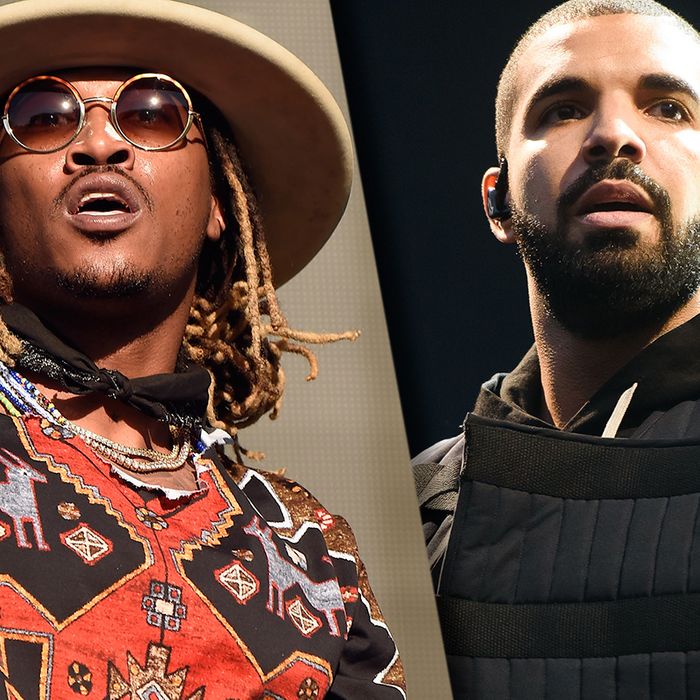 Drake and Future have unleashed a surprise joint mixtape unto the internet — what a time to be alive! That's both a declaration of each rapper's increasingly self-aware ubiquity and the title of the tape, released Sunday night via Apple Music. Or should we call it an album? And is the marriage of Future's Freebandz and Drake's OVO Sound (#FBGOVO) as diamond-studded as its stock-image artwork suggests? Vulture's Jillian Mapes, Lauretta Charlton, and Dee Lockett answer all your pressing questions in a roundtable discussion below. Here are their initial impressions of What a Time to Be Alive.
Who Dominated, Performance-wise? Who Was This More Beneficial For, Career-wise?
Dee: What a Time to Be Alive might be billed as a Drake and Future collaboration, but let's be honest: This is Future featuring Drake. Seven of the tape's 11 tracks were produced by Future's in-house beatmaker Metro Boomin, whose sound Future has owned. On "Scholarships," Drake says he needs acknowledgement, but maybe it's Future who deserves it. In this kind of setup, Future usually plays hookmaster, but it seems he's no longer satisfied with that comfort zone. He raps, not sings, some of the tape's most memorable lines — "You just a battle rapper, I'm an official trapper," he shades Meek Mill — not an easy feat beside the most quotable rapper alive. Those late nights, meanwhile, are really starting to show on Drake. He loads the tape with verses sponsored by Nike and Apple, and ends with a "Tuscan Leather"–type solo "freestyle" that makes passing references to his use of ghostwriters and silence on Black Lives Matter, but never says much. With Drake, it's all for sport.
Lauretta: As Drake pointed out before the premiere of WATTBA on his OVO Sound Beats 1 radio show yesterday, Future is one of the hardest-working men in rap right now. It shows. Here the Atlanta native goes pound-for-pound with his Toronto counterpart, dominating verses on songs like "I'm the Plug" and "Diamond Dancing," proving he's more than just the sum of the numerous hooks for which he has become famous. Drake takes the backseat, letting the DS2 rapper flex on what is certainly the highest-profile release of his career. This is Future's moment. Drake's just here for moral support.
Jillian: If Drake's just here for moral support, he's showing it by bringing Future into his world, where 60 naked bitches (no exaggeration) are on hand to help pull 'em both out of the emotional gutter. (A funny idea: Imagining that Drake and Future's lives up until a couple years ago involved worrying about the same things.) If you were wondering whether Future's still sweating Ciara (and, you know, almost dying after chugging lean), WATTBA suggests that he is, but that Drake is trying to help him forget. The plan is laid out clearly in second track "Big Rings," where Drake tweaks a familiar trope to portray his squad as [insert your preferred winning sports-team reference here], claims Future as his own, and even gets the longtime star of Atlanta's underground to do his dirty work with a Meek Mill swipe. I'd argue Drake gets something out of all this: further establishing a harder-hitting, harder-living cred (within reason, of course — Future's been major-label rap for a minute). Where Drake used to tell his mom, "You deserve it," now he's using the line on strippers ("Plastic Bag"). Future outraps Drake here and earns a moment of shine both for himself and his personnel, so I wouldn't exactly call this charity on Drake's part, even though he seems eager to play the big-bro role to his onetime opponent in beef.

But Who Really Killed It?

Dee: By my ear, it's — surprise! — Metro Boomin. Look, neither Drake nor Future delivered their A game, but MB steals the show. He's named executive producer on the tape, and he used those six days in Atlanta with two rappers in their prime to his advantage. These aren't his best beats (look to DS2's "I Serve the Base" for that) but, at just 22 years old, it's yet another bass-rattling effort (especially see: "Jumpman") that should bring him closer to becoming a household name alongside the likes of DJ Mustard, who's name-checked by both Future and Drake over one of Metro's beats, hilariously.
Lauretta: As much as WATTBA is about Future, it's also about his Atlanta comrade Metro Boomin, who produced most of the tracks and gives the album its unmistakable "turn-up at Magic City Monday" vibe. That said, I've got to give it to Drake on "30 for 30 Freestyle." The final track on the tape includes Drake decimating his haters so casually and with so much aplomb that it makes me want to send a get-well-soon card to Meek Mill.
Jillian: I agree that Metro Boomin's fingerprints are all over WATTBA in the best way, but for the sake of spreading this shine around, I'm going to say that the strippers who so clearly inspired this mixtape are the true heroes here. (Drake, don't act like you're doing women a favor just by letting them exist in your presence.)

Any Potential Hits?

Dee: Strippers, I'm sending you my advanced sympathy for every time you'll have to pat the pum-pum to "Diamonds Dancing." It's tailor-made for 3 a.m. in Magic City on a Monday, that hour when all the lean and liquor might make you act petty. You've already heard the toll that feeling takes on Drake with his ex-shaming hits "Hotline Bling" and "Marvin's Room" — now see what it does to Future, deep into his post-Ciara foolishness.
Lauretta: I'm going to go with "Jumpman," which includes a sample of a crow and Drake pretending to cough because he needs Robitussin. There's also Future emphatically professing his love of Japanese food over chicken wings and fries. What more do you need, America?
Jillian: Keeping with Drake's track record of success with sports-themed tracks and the anthem quality they're so clearly going for, I'm fearful "Big Rings" will be the WATTBA song that sticks. It's a shame, because the song is wholly average on Drake's part (Boi-1da and Metro Boomin's production, on the other hand, is pretty bumpin'), and also because "Live From the Gutter" deserves the love more (even if it is so not a hit in pace). Future gives a wide-ranging performance that twists his real-life anguish into a redemption story; the piano-driven musical drama keeps it dark throughout, however. Again, it's too slow and moody to be big, but "Jersey" is another one where Future is running through the ATL with his woes, against a perfectly muted backdrop (i.e., The Godfather theme meets 2010s downbeat trap). 

Drake's Whole Mixtape-vs.-LP Thing

Dee: I think by now, you have to assume Drake's onto bigger and better things. As others have reported, WATTBA was released under Cash Money Records (and Epic, for Future), just like If You're Reading This It's Too Late was. At the time his last mixtape-album hybrid dropped, around Valentine's Day, Drake didn't have his Apple Music deal (he was likely still aligned with Tidal), yet it was released straight to iTunes. But this latest was an Apple event, premiered first on Drake's OVO Sound Beats 1 show and popping up on iTunes and Apple Music to download and stream shortly after. ("This dick ain't free!" as Kendrick would say.) I don't know the details of Drake's Cash Money contract — which he's been trying to wiggle out of like his name's Jason Derulo — but it seems likely that Views From the 6 won't be a part of it. And at this point, is the only difference between a Drake mixtape and a Drake album measured by which one critics decide to take more seriously?
Lauretta: For me, the most interesting thing about WATTBA isn't how it fits within the mixtape-versus-album contract debate, but how it seems to be part of a growing trend in which artists are trying to recapture the glory days of the classic studio jam session, improvising off of each other in an effort to capture a different kind of magic. From Watch the Throne to Run the Jewels to Chance the Rapper's recent output (Lil B collabo, Donnie Trumpet LP) to Big Boi's dedication to collaboration across the aisles, the commitment to being better together than you are separately seems sincere.

Jillian: I, too, can't imagine this has anything to do with his Cash Money negotiations, and ultimately don't think the mixtape distinction matters all that much — except in perception. Calling this or If You're Reading This It's Too Late a mixtape alleviates some pressure from Drake; on WATTBA, especially, where he — like you suggest, Lauretta — is riffing off someone else's energy (instead of having his own drained by the enemies, internal and external).

The Takeaway
Dee: To quote Drake's own self-aggrandizement: "On the Billboards, all we do is pop shit." It's too bad What a Time to Be Alive's likely massive numbers won't reflect the tape's underwhelming end result. What a time to need Watch the Throne 2.
Lauretta: "Nobu, Nobu, Nobu, Nobu, Nobu, Nobu."
Jillian: Never say never. Future left/was fired from Drake's tour two years ago, after he shit-talked Drizzy (and was subsequently offered less money for the opening spot), which incited a lawsuit that didn't last long. These two clearly buried the hatchet a while ago, seeing as they've collaborated on music since, but they really show you how committed they are to their friendship on WATTBA, to mixed results. It's an okay album. I'm more interested in watching Drake play papa bear, though.