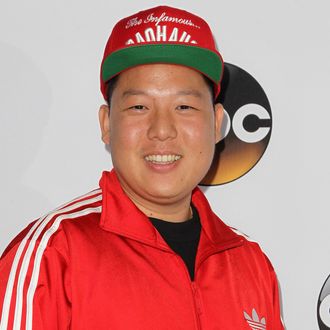 Eddie Huang.
Photo: Faye Sadou/UPA/Corbis
Eddie Huang's voice won't be heard narrating Fresh Off the Boat's second-season premiere — and likely will not be heard again.
Sources close to the show tell Vulture Huang has not recorded any voice-overs for the new season of the ABC comedy, and there is currently no plan for him to return.
Instead, our sources say, the show about a Chinese-American family that moves from Washington, D.C., to Florida in the 1990s will continue as a single-camera comedy without a narrator. In Tuesday night's second-season premiere, youngest son Evan is heard narrating the start of the story, but it's only used as a plot device to kick off the season. Ian Chen, who plays Evan, does not perform a voice-over throughout the episode.
Huang, who wrote the memoir on which FOTB is based, has had a mixed history with the series: He's praised elements at times but also took issue with what ABC had done to his life story in a New York Magazine essay. He later took to Twitter to announce he was no longer watching it.
ABC did not return Vulture's requests for comment about the changes, and Huang's personal publicist declined to comment. Huang's continued involvement with the show came up last month at a press event in Los Angeles, when series creator Nahnatchka Khan told reporters, "If there is a narrator, it would be Eddie. It won't be suddenly Honey narrating, or somebody else."