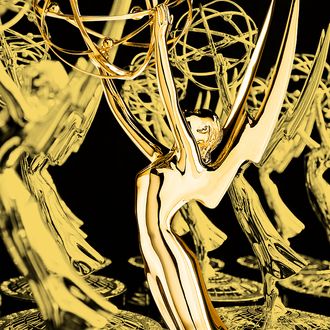 The 67th Prime-time Emmy Awards are this coming Sunday, and as much as the Academy can feel like a staid institution, the truth is that the Emmys are in flux — and always have been. TV changes; trends come and go; formats evolve. So, going into this weekend's ceremony, remember how many categories have come and gone over the years. Hang on tight to those trophies, HBO. Nothing gold can stay.
• At the first Emmys, in 1949, there was a Most Popular Television Program category. (Pantomime Quiz Time on KTLA won.)
• There used to be a category for new shows, too, on and off from 1953–1973. And yes, you could double up: For example, All in the Family won best comedy and best new show in 1971.
• In 1974, there was a so-called super-Emmy, in which actors and actresses competed across genres — i.e., Best Supporting Actor in a Comedy went up against Best Supporting Actor in a Drama. Alan Alda won "Actor of the Year" for M*A*S*H, and Mary Tyler Moore won for Mary Tyler Moore. Hal Holbrook and Cicely Tyson won in the specials/movies category, and Michael Moriarty and Joanna Miles won in the supporting categories. People were not into it. A review in the New York Times the following day called the ceremony "more confusing than ever," and said that "the new 'super awards' are pointless."
• There were best comedian and best comedienne categories for much of the 1950s, which eventually segued into the category Best Continuing Performance in a Series by a Comedian, Singer, Host[ess] Dancer, M.C., Announcer, Narrator, Panelist, or Any Person who Essentially Plays Himself [or Herself]. In the earliest ceremonies, there were also awards for Most Outstanding Kinescoped Personality (mazel tov, Milton Berle), Most Outstanding Live Personality, and Most Outstanding New Personality.
• When the format was more popular, there was a category for panel, quiz, and audience-participation shows. There were also Best Mystery, Action, or Adventure Program; Best Mystery or Intrigue Series; Best Action or Adventure Series; Best Western or Adventure Series; and a category just for Westerns.
• The Outstanding Variety Series categories have always been fractured — this year, there's a new sketch category, but in ages past, there were separate categories for Outstanding Variety Series — Musical; Outstanding Variety Series — Talk; Outstanding Single Program, Variety or Musical: Variety and Popular Music, and Outstanding Single Program, Variety or Musical: Classical Music. The 1970s were real into variety.