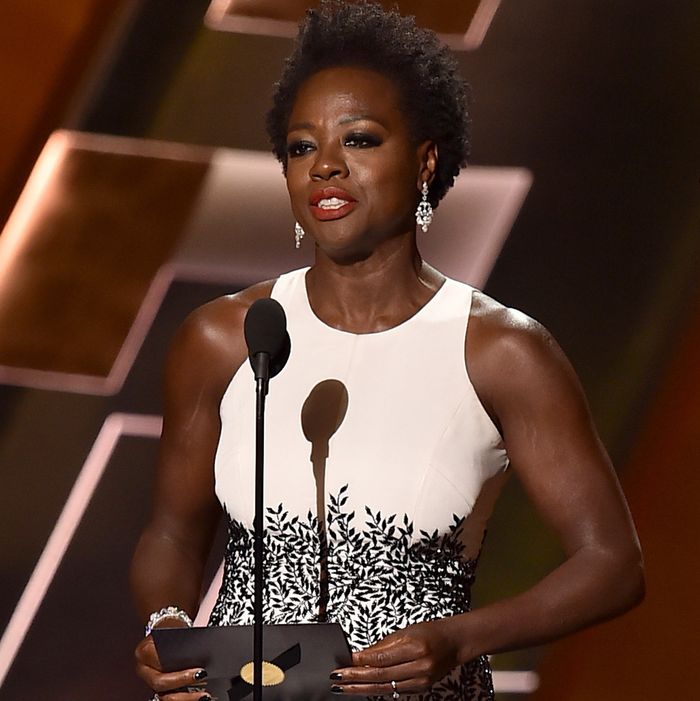 Viola Davis, making history.
Photo: Kevin Winter/Getty Images
Was this the sweetest Emmys ever? Viola Davis, Uzo Aduba, and Regina King all made us cry; Tracy Morgan made a surprise emotional speech; and Jon Hamm literally rolled onto the stage to accept his first-ever acting award for Mad Men. On the other hand, those beans. Read on for our highs and lows from this year's awards.
High: The opening song. Andy Samberg burying himself in a bunker to catch up on TV is a solid premise on its own, but the snappy song and zippy lyrics both highlighted great shows and poked a little fun at how repetitive Peak TV still is. (Wives shows, anyone?) This is the kind of number that should open every awards show.
Low: The beans. Uh, what was that beans segment? At least it was short, unlike the Lorne Michaels segment. Fewer segments!
High: Olive Kitteridge's fairy writer. Olive Kitteridge won the award for Best Writing, along with just about every other award. To accept was a little fairy named Jane Anderson, who literally hopped her way to the stage and spoke in hushed amazement, even sounding delighted when she said "good-bye!" as the Emmy music played her off the stage. Jane Anderson, you are a national treasure.
Low: Louis C.K.'s videos about comedy writing. Every comedy-writing staff nominated for an Emmy was told to create a video about the most difficult thing about writing comedy. They were all tongue-in-cheek, except for poor Louis C.K., who apparently didn't get the memo and took his craft seriously. Oof.
High: Jon Hamm finally winning an Emmy. This is the only acting Emmy that Mad Men ever won. Ever! That is pure madness, and yet also so poetically perfect. Hamm slithered onstage rather than climbing the stairs, and delivered an emotional, simple speech. (Though he left out Matt Weiner.) But inherent low, too, since Mad Men wrongly came up empty the rest of the night.
Low: Terrence kisses Taraji IRL. This was one instance of life imitating art we didn't need to see, but it happened anyway: There was a cheek-peck, a bad I'm-trying-to-play-this-off face, and a wipe. (Any kiss that involves two hands fixing the recipient to the ground is probably a bad idea.) Sorry to say, but Terrence Howard was kind of the John Travolta of this year's Emmys.
High: Fox wrapping the telecast early. Perhaps it came at the expense of fewer segments and musical numbers — or perhaps whatever that thing Terrence Howard thought he was doing with Taraji P. Henson made everyone want to read and leave quickly — but the Emmys telecast somehow finished under time, at 10:58 p.m. EST. And that deserves a standing ovation. Good work, Fox — now people can yell about Mad Men and Game of Thrones at a reasonable hour.
Low: Game of Thrones wins for Best Writing. What? In a category where The Americans, Better Call Saul, and Mad Men were all nominated (the latter for two episodes), the Game of Thrones finale "Mother's Mercy" took it, an episode heavy on action, but hardly the type of writing cohesion we saw on those other three shows. That "bad pussy" line is now Emmy-winning. Shame, Emmys. Shame. Shame. Shame.
High: Amy Schumer giving thanks for smoky eyes. Some people thank God, some people thank their family and cast members, but as Amy showed tonight, sometimes it's also okay to be feelin' yourself and thank the heroes who give you really awesome smoky-eye looks.
Low: The finale montage. Spoilers mean nothing.
Highest: Viola Davis's history-making win and speech. Davis became the first black woman to win an Emmy for Outstanding Actress in a Drama. She met the moment, too, as her powerful, poignant speech capped off a night of great wins for other black women, including two-time winner Uzo Aduba and surprise first-time winner Regina King. Davis knew she was making history, so she quoted Harriet Tubman and reminded everyone of how far Hollywood has to go. "You cannot win an Emmy for roles that are simply not there," she said.
High: Women won for writing and directing. The writing and directing categories are notoriously male — something that Game of Thrones' dominance didn't change. But there were some bright spots: Olive Kitteridge's sweep meant wins for its writer Jane Anderson and its director Lisa Cholodenko, and Jill Soloway took the win for directing Transparent.
Low: So many awkward presenter moments. Must we constantly indulge Ricky Gervais and Jimmy Kimmel? Are presenters not allowed to rehearse their banter, Taraji P. Henson and Terrence Howard? Anything that drains the charm from John Stamos and Gina Rodriguez is doing something very wrong. Either play it straight and go for elegant efficiency, or make these intros funnier and less brittle.
High: So many shout-outs to siblings! Awwww.
High: We got to see the Jon Stewart body-slam again. When the nominees for Best Variety-Series Writing were introduced, their names weren't just read; the shows and their respective scribes received special treatment in the form of creative vignettes. For example, The Daily Show notably showed this beautiful body-slam roughly a dozen times, and Last Week Tonight showcased more weird mascots than the NFL and the NBA combined.
High: Tracy Morgan's triumphant return. A little over a year after a catastrophic accident, Morgan returned to the Emmys stage, looking and sounding like his old self (and even throwing in a joke about getting people pregnant at the after-parties). It was a surprisingly emotional moment, and as good a way to close the show as any.