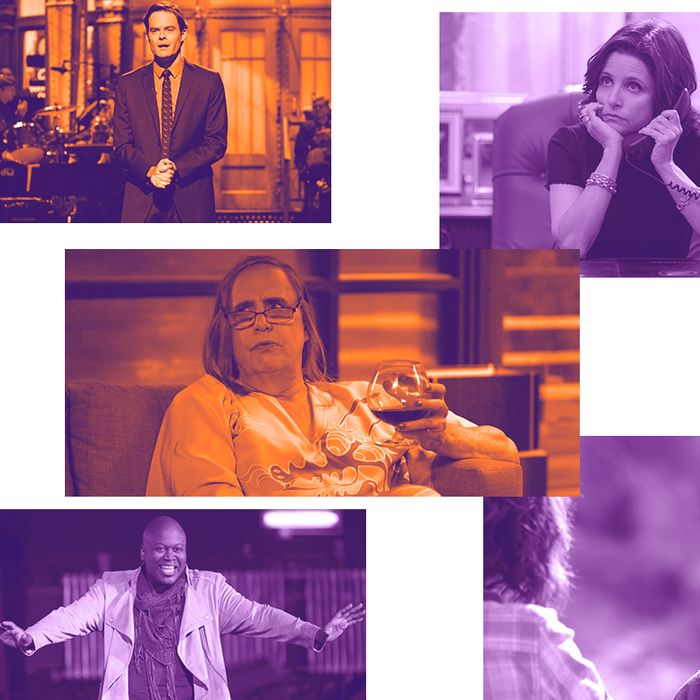 Photo: Vulture Illustration and Photos by NBC, Amazon, Netflix, HBO, FX and FOX
The 67th Emmy Awards air on Sunday, September 20, and all this week, Vulture will be breaking down the major categories. Instead of giving our predictions for which shows and actors will take home awards, let's focus on the question that matters more: Who should win? Today, we focus on comedy.

Outstanding Comedy Series
Louie
Modern Family
Parks & Recreation
Silicon Valley
Transparent
Unbreakable Kimmy Schmidt
Veep
This is a tough one, but the clear standouts, in terms of ambition, complexity, and surprise, are Transparent, Unbreakable Kimmy Schmidt, and the final season of Parks & Recreation. The first might (deservedly) take it for its subtlety and its uncanny timing in a year when transgender characters came into their own in both TV and cinema (see, also, Orange is the New Black and Tangerine). Kimmy Schmidt is an abrasive delight, one that pretty much demands that viewers tune in to its odd wavelength and not mind when it steps on their toes (as it often does). Parks & Recreation should win, though, as a retroactive reward for its richness and humanity, and because it staged one of the great exits in sitcom history.
Outstanding Lead Actress
Julia Louis-Dreyfus, Veep
Edie Falco, Nurse Jackie
Lisa Kudrow, The Comeback
Amy Poehler, Parks and Recreation
Amy Schumer, Inside Amy Schumer
Lily Tomlin, Grace and Frankie
There are no bad performances in this category, and JLD, Falco, Kudrow, and Tomlin all are Emmy winners already. Louis-Dreyfus won in this category the last three years, so it would be nice to mix things up a bit. Falco has also won for Jackie before, and while she was terrific on the show, she wasn't actually funny. (The role didn't call for it because Nurse Jackie is secretly but totally a drama.) Kudrow gave the performance of the year in one of the most complex roles on television, and in a pure meritocracy should absolutely win. But here's to pulling for Amy Poehler: Parks never got any Emmy love, and this would be the perfect farewell to Leslie Knope.
Outstanding Lead Actor
Anthony Anderson, Black-ish
Louis C.K., Louie
Don Cheadle, House of Lies
Will Forte, The Last Man on Earth
Matt LeBlanc, Episodes
William H. Macy, Shameless
Jeffrey Tambor, Transparent
Cheadle is consistently excellent on House of Lies, and his work as a smooth-talking center of attention comes close to defining a "Don Cheadle type," an achievement we might not have expected from a character actor known for his ability to disappear into roles. Macy pulls off the same feat with a different timbre, and under very different circumstances, in Shameless, creating a sardonic, tough, gruff, but touchingly real and flawed father. LeBlanc is funny on Episodes, giving his affable, dumb-like-a-fox leading man an edge of narcissistic menace and making us sometimes feel as though we're seeing Joey from Friends gone dark. C.K. keeps testing our capacity to like his character on Louie, though as always, it's hard to tell how much of that is his work as a screenwriter. Anderson incarnates a new kind of sitcom dad in a series whose sheer confidence was breathtaking, but this is his first nomination and he's only begun to show us what he's got. Jeffrey Tambor should and probably will win for his work as the transgender Maura on Transparent, a potentially gimmicky performance made real by the actor's melancholy self-awareness, a quality that lingered beneath the surface of other roles but which comes to the forefront in the role of a lifetime.
Outstanding Supporting Actor
Andre Braugher, Brooklyn Nine-Nine
Keegan-Michael Key, Key & Peele
Tituss Burgess, Unbreakable Kimmy Schmidt
Adam Driver, Girls
Ty Burrell, Modern Family
Tony Hale, Veep
Braugher gives more joy than any other nominee, and if he won (after being nominated last year for this role) no one with eyes or ears or a funny bone would complain; nor should anyone complain if Burgess wins for Kimmy Schmidt, because we might get to see the audience join in a sing-along of the "Peeno Noir" song. Driver is one of the most original actors on TV or in film, but he had less to do this year than in previous seasons of Girls, and Burrell and Hale, however excellent, haven't shown us any new shadings on their respective series. For sheer versatility, this should go to Keegan-Michael Key for Key & Peele, though the absence of his equally brilliant partner Jordan Peele is regrettable, and the variety-sketch format skews the measurement somewhat.
Outstanding Supporting Actress
Julie Bowen, Modern Family
Mayim Bialik, The Big Bang Theory
Anna Chlumsky, Veep
Gaby Hoffmann, Transparent
Jane Krakowski, Unbreakable Kimmy Schmidt
Allison Janney, Mom
Kate McKinnon, Saturday Night Live
Niecy Nash, Getting On
While no category is pure apples-to-apples, the Supporting Actress performances seem especially different from one another: We have big, broad, multicamera sitcom acting; mainstream, single-camera comedy acting; off-beat, single-camera comedy acting; sketch performance; and grounded performances in genre-pushing, authenticity-driven shows.
Nothing against Julie Bowen, but if she wins again (she's won twice for MF), it'll be a real bummer. Bialik … didn't have that much to do last season, but all the other performances were aces: Krakowski's sort of doing a 30 Rock retread, but this isn't an innovation category. Chlumsky turned in some of her best work ever in the last season of Veep, and Hoffman's knotty performance on Transparent gave the show some of its best moments. Janney, who won last year, remains wonderful on the underrated Mom, and Nash's quiet weariness on Getting On is part of what makes the show so rich.
Any of those women would be good picks. But it's time to give Kate McKinnon an Emmy. Her SNL characters all have a surprising dignity to them, an almost electric sense of self-regard that keeps her style of humor away from cruelty or brittleness.
Outstanding Writing
Episodes (Episode: "Episode Nine"), David Crane & Jeffrey Klarik
The Last Man on Earth (Episode: "Alive in Tucson"), Will Forte
Louie (Episode: "Bobby's House"), Louis C.K.
Silicon Valley (Episode: "Two Days of the Condor"), Alec Berg
Transparent (Episode: "Pilot"), Jill Soloway
Veep (Episode: "Election Night"), Simon Blackwell, Armando Iannucci, and Tony Roche
The Emmys' continuing affection for the flat, unspecial Episodes is baffling, but the other nominees in this category are shining examples of what contemporary comedy strives for. They're also each distinctly themselves: You could hear one line of dialogue from these episodes and instantly know which show it was from. Nothing else sounds like Veep. Louie is among the most voice-driven shows of our era. Silicon Valley is as intricately plotted as a psychological thriller, and Last Man on Earth's premiere married an out-there premise with a surprising amount of emotional depth and texture. But Transparent's pilot is so gentle and beautiful and raw it feels like a dream.
Outstanding Directing
Louie, "Sleepover," Louis C.K.

Silicon Valley, "Sand Hill Shuffle," Mike Judge

The Last Man on Earth, "Alive in Tucson (Pilot)," Phil Lord and Christopher Miller

Transparent, "Best New Girl," Jill Soloway

Veep, "Testimony," Armando Iannucci
Good as "Sleepover" was — and it was one of the best single episodes of Louie, a series that excels at knockout, self-contained stories and segments — and as enjoyable as the other nominees were, the clear choice here is Jill Soloway for Transparent's "Best New Girl," the eighth episode of the show's first season. From the cold open (with "1994" date stamp) onward, it wove a bracing yet gentle spell, gave us new information about the family that seemed to both foretell and enrich the present-day story, and overcame any concerns that an extended flashback would blunt the show's momentum.