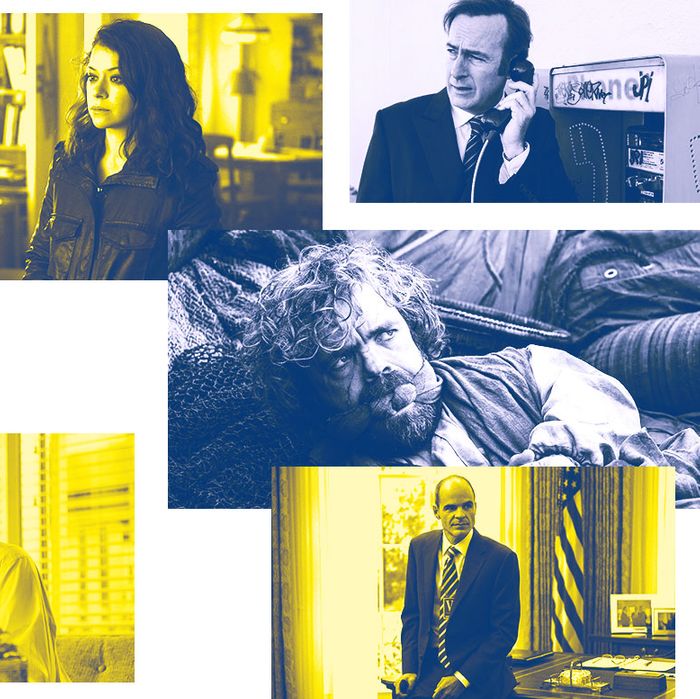 Photo: Vulture Illustration and Photos by Netflix, AMC, BBC and HBO
The 67th Emmy Awards air on Sunday, September 20, and all this week, Vulture will be breaking down the major categories. Instead of giving our predictions for which shows and actors will take home awards, let's focus on the question that matters more: Who should win? Today, we focus on drama.
Outstanding Drama Series
Better Call Saul
Downton Abbey
Game of Thrones
Homeland
House of Cards
Mad Men
Orange Is the New Black
Downtown Abbey doesn't belong with the others, as enjoyable as it still sometimes is, as it abandoned common sense along with any pretense of artistry a long time ago. Ditto House of Cards, a sampler box filled with handmade and probably poisonous bonbons. Game of Thrones is the most handsomely produced series of the six — with the possible exceptions of Mad Men and House of Cards, though they obviously don't have the same scope — but a certain exhaustion has begun to set in, and the producers have seemed stubbornly unwilling to really address the show's racist and sexist tendencies, despite the intelligence the writers demonstrate in every other area.
Better Call Saul had one of the best freshman seasons in memory, but its quiet, measured, exquisitely protracted approach to storytelling suggests that it has a lot more to show us. Orange Is the New Black was an entertaining jumble this season, with moments that evoked high points from the great M*A*S*H, but the question of whether it's more comedy than drama or more drama than comedy lingers (for purposes of classification, anyway); it's so deservedly well-liked that it wouldn't be a surprise to see it sneak in and take the prize anyway. If there were a special category for Most Successful Creative Rescue Effort, season four of Homeland would win easily, but that's not the same thing as calling it the best drama.
Mad Men should win yet again, and probably will; it demonstrated the same stubborn, meticulous, geometric intelligence during its final run as it has in its best prior seasons (one, two, and five, if anyone's wondering), and the final ten minutes of the finale prompted more discussion (and argument) than any sendoff since the end of Breaking Bad.
Outstanding Lead Actor 
Jon Hamm, Mad Men
Kevin Spacey, House of Cards
Bob Odenkirk, Better Call Saul
Jeff Daniels, The Newsroom
Kyle Chandler, Bloodline
Liev Schreiber, Ray Donovan
What's Jon Hamm gotta do to win a damn Emmy already? Give Jon Hamm this Emmy. Remember when Jeff Daniels won in this category, beating both Hamm and Bryan Cranston? It was ridiculous then, it would be ridiculous now. (Next year will be your year, Bob Odenkirk.)
Outstanding Lead Actress
Taraji P. Henson, Empire
Claire Danes, Homeland
Viola Davis, How to Get Away With Murder
Robin Wright, House of Cards
Elisabeth Moss, Mad Men
Tatiana Maslany, Orphan Black
There are no weak links here; in fact, they're all so strong that whoever wins shouldn't draw too many complaints. Wright is the best thing on House of Cards, still; after decades in the shadow of more volatile leading men, she's flowered in a role that gives her character real influence, and has evolved into a Helen Mirren–like, rock-steady leading lady. Moss had some of her best moments on Mad Men, but it's not as if she lacks recognition at this point. Maslany deserves an Iron Woman award for her performance in multiple roles on Orphan Black, but her sheer virtuosity has never quite been matched by the series, which sometimes plays as if its main function is to give her acting challenges that she can master. Davis made the most powerful impression of anyone in this category, bringing a bracing, sometimes terrifying commitment to the lead role on How to Get Away With Murder, and humanizing an imperious character in ways that pretty much demanded that you accept ludicrous plot twists and care what happened next. Her only serious competition should be Taraji P. Henson, who was more fun than any actress on a network this year. If you've seen even ten minutes of the entertaining Empire, you can't think of her performance as Cookie without grinning.
Outstanding Supporting Actor 
Jonathan Banks, Better Call Saul
Jim Carter, Downton Abbey
Alan Cumming, The Good Wife
Peter Dinklage, Game of Thrones
Michael Kelly, House of Cards
Ben Mendelsohn, Bloodline
This is mostly a two-man race: Kelly and Mendelsohn had particularly challenging to-do lists, and both nailed their characters' chilling depravity and strange charisma. Mendolsohn's jangly, disquieting performance made Bloodline work better than it actually deserved to, but it's Michael Kelly's turn as the unhinged Doug Stamper that was ultimately the bigger thrill. Jonathan Banks deserves it, too. "Five-O" helps explain why Mike is so grizzled, so of course the highlights are Banks showing the exact map of his vulnerabilities.
Outstanding Supporting Actress 
Uzo Aduba, Orange Is the New Black
Christine Baranski, The Good Wife
Emilia Clarke, Game of Thrones
Joanne Froggatt, Downton Abbey
Lena Headey, Game of Thrones
Christina Hendricks, Mad Men
Aduba won an Emmy for the same role — except as a guest actress in a comedy. Go figure. Her Suzanne had a banner season, certainly, as did Lena Headey's Cersei Lannister. (Shame! Shame!) This better be Christina Hendricks's year, though: The episode she submitted, "Lost Horizon," was some of her best work, showcasing her particular knack for conveying to us that Joan has changed her mind or made a decision about something. It's not just about big, blowout moments.
Outstanding Writing
Better Call Saul, "Five-O," Gordon Smith
Game of Thrones, "Mother's Mercy," David Benioff and D.B. Weiss
Mad Men, "Lost Horizon," Semi Chellas and Matthew Weiner
Mad Men, "Person to Person," Matthew Weiner
The Americans, "Do Mail Robots Dream of Electric Sheep?" Joshua Brand
This category is an embarrassment of riches. "Do Mail Robots Dream" had one of the stand-out scenes of the year — of a bunch of years, really — between Elizabeth and an unlucky woman, expressing sadness and horror in these tiny, quiet ways. "Mother's Mercy" was neither tiny nor quiet, but pulled off its agony scenes in the ways only Game of Thrones seems interested in doing. "Five-O" is the carefully woven flashback other shows wish they were capable of. "Lost Horizon" hit Mad Men's sweet spot of showing degradation, alienation, and consumerism link together. And then there's "Person to Person," the rare finale whose risks paid off. Any other year, and this would go to "Robots." If it weren't for Leonard. And his nightmare of being in the refrigerator. And the Coke ad. And the phone calls. "Person to Person" it is.
Outstanding Directing for a Drama Series

Boardwalk Empire, "Eldorado," Tim Van Patten

Game of Thrones, "Unbowed, Unbent, Unbroken," Jeremy Podeswa

Game of Thrones, "Mother's Mercy," David Nutter

Homeland, "From A to B and Back Again," Lesli Linka Glatter

The Knick, "Method and Madness," Steven Soderbergh
Boardwalk Empire's finale "El Dorado" was magnificent, a classic (if ultimately predictable) sendoff for a series that often couldn't make up its mind if it was new-school or old- (in the end, it made peace with being both). The two nominated Game of Thrones episodes were typically assured demonstrations of heavy lifting, but not as altogether strong as some previous nominees. The nominated Homeland episode was one of the show's better displays of pretzel plotting (with a wrenching ending), and it gave Claire Danes's Carrie some of her most affecting post-Brody moments, but like the Thrones episodes, there's nothing about it that sparks special passion. "Method and Madness" was not the best episode of season one of The Knick (Emmy voters often seem to choose pilots to nominate, maybe because pilots lay out the premise of series and don't require any additional investment) but Steven Soderbergh, who directed every episode of the show, is working miracles in that period hospital. He displays more directorial imagination, flair, and taste than anyone else behind the camera in series TV right now. An award for the series would be a nice way of acknowledging the magnitude of what he's doing.