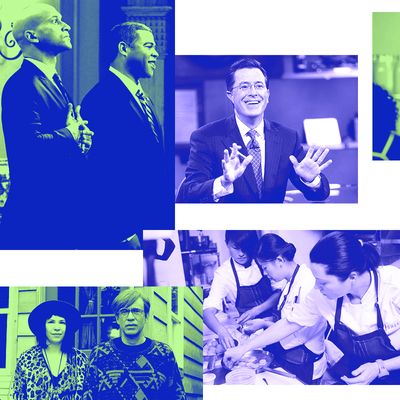 Photo: Vulture Illustration and Photos by Comedy Central, IFC, Bravo and CBS
The 67th Emmy Awards air on Sunday, September 20, and all this week, Vulture will be breaking down the major categories. Instead of giving our predictions for which shows and actors will take home awards, let's focus on the question that matters more: Who should win? Today, we focus on variety and reality.
Outstanding Variety Talk Series
The Colbert Report
The Daily Show
Jimmy Kimmel Live
Last Week Tonight
Late Show With David Letterman
The Tonight Show Starring Jimmy Fallon
We all know who the winner will be in this category, and deservedly so: Last Week Tonight With John Oliver. The host, a longtime Daily Show contributor and sometime fill-in for Jon Stewart, had one of the best and most culturally important first seasons of any talk program in memory. Last Week's approach prized depth and context over quick-hit laughs (though there were plenty of the latter), and actually managed to jump-start a push for wholesale reform in problem areas of government and business. All that, plus puppets.
Outstanding Variety Sketch Series

Drunk History

Inside Amy Schumer

Key & Peele

Portlandia

Saturday Night Live
This is the first year for this category, which previously was combined with variety/talk in one big variety category. This is better. While it would be thrilling and absurd to see the captivating Drunk History take home an Emmy, that seems unlikely. Portlandia is still chugging along, though its high highs seem farther apart. Schumer is often a revelation, and SNL is, of course, the granddaddy of them all. But Key & Peele covers more ground with more laughs and more precision. Just superb.
Outstanding Reality Competition Program
The Voice
Top Chef
Dancing With the Stars
The Amazing Race
So You Think You Can Dance
Project Runway
There was a time where all of these shows were firing on all cylinders, but that time has passed. Way passed. Project Runway has fizzled, Top Chef feels like a grind, and The Voice is suffocating. DWTS is as schlock as schlock gets. Since The Amazing Race has won so many times, let's mix it up and recognize So You Think You Can Dance. It's past its best years, but at least its still trying.