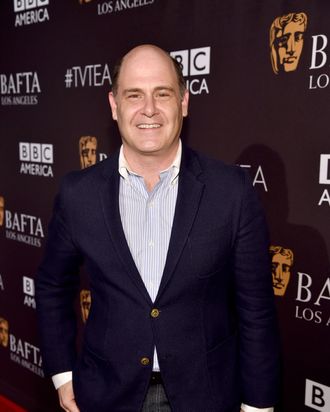 Matthew Weiner, barely showing at 6 months.
Photo: Alberto E. Rodriguez/BAFTA LA/Getty Images
Last night, after HBO and all of the other Emmy celebrations shut down, Matt Weiner kept things going after midnight at the AMC party with the rest of his Mad Men crew. Vulture caught up with Weiner as he reflected upon seeing his writers and cast assembled together for one last time. While we chatted, the last remaining cast member Christina Hendricks left BOA in West Hollywood and bade Weiner good night. Vulture also caught up with Weiner at a pre-Emmys BAFTA tea party, and the following conversation combines the two. Vulture spoke to Weiner about Mad Men's final night at the Emmys, how happy he was for Jon Hamm, and what he's working on now.
How was your night?
It was very emotional. All of us hadn't been together since May. Everybody scattered to the corners of the Earth and took different jobs. I get to see all my writers, and there is such an outpouring — despite the results — of comments about the show from our peers. I didn't think we were going to win; everybody told me we weren't going to win. I had hoped that we might win, but that's why we go to the awards show. [Laughs.] And then Jon's standing ovation, and I just felt like I wish we had another season of the show so I could use that to sell it. [Laughs.]
I felt like he should've won every year. For me it was a beautiful moment. I directed the last seven episodes, and I can tell you that his performance was just remarkable. When I was writing, I was writing to him, as I always do, but I just backed off and watched him do it. And it was nice to see him noticed. That's how I see it.
Liev Schreiber told us that he really wants to see Jon win, and I thought that was so gracious.
Can I just say it? What an all-star category. It was like a Hollywood movie. These are the people nominated. It was literally the cream. The cream. Every single one of those persons was unbeatable. If you were telling the story and our fictitious character was up against these people in his category, could he win? I mean, Kevin Spacey, Kyle Chandler, you can list the names. Liev had an incredible season. And actors love Liev.
You're still a part of history.
I like Ricky Gervais's thing. I was actually thinking about taking a picture with one of my old Emmys and going online saying, "We did it. We set the record." To see if anyone would say, "No you didn't." [Laughs.]
[Cinematographer Chris Manley joins us.]
Manley: Sorry to interrupt. You've got to see this. This is a news feed, and it actually says that Mad Men won.
Weiner: Oh my God! Someone did it!
Manley: Look! It's The Guardian. It says Mad Men tops Game of Thrones for Best Drama.
Weiner: That is insane.
Manley: Then here's a correction a few minutes later. [Laughs.]
Weiner: Dewey beats Truman!
Manley: They jumped the gun. That's really funny.
You delivered such a big show. Have you ever thought about ending your career here?    
If you knew how much I worked, if you knew how important work was to me, if you watch Mad Men and see that Don Draper went into work on the day of the Kennedy assassination, I have to work again. It is really how I do everything. I relate to the closest people in my life that way, including my wife and kids. Not that they're the subjects, but they know that I'm a person who's always working. And I don't mean being away from home — I mean as a writer you get to take life a little bit more seriously sometimes.
What are you doing tomorrow?
I plan to start working at one. I have an office in my house, and I'm going to have my writer's assistant come over, and we'll be brainstorming. We have to do a Taschen book that's coming out. Big 800-page coffee-table book. It's kind of cool.
Oh my gosh, that sounds like porn!
I know! [Laughs.] It really is. And I know that they've done an amazing job on it. And it's huge!
I almost feel like it's dirty!
I know it is kind of dirty. I was thinking that if I wasn't on the show I would probably buy this book. So, it is a little bit dirty.
Is it really 800 pages?
Yeah. There's two volumes. I wrote an essay. The essay is basically that that is the last thing that I will write about Mad Men.
[The rest of this transcript came from a conversation with Weiner at the pre-Emmys BAFTA tea party.]
Is there anything else coming up?
I'm home writing. I'm not announcing anything, but I'm home writing. I've always worked that way anyway. I'm in creative soup right now. That's all I can tell you.
So it didn't feel hard to start from scratch?
Totally hard. Absolutely. You're being measured against your old work, and you don't know how it happened. Who did it. And you're back to being — I have this adage that TV writing is for people who hate being alone more than they hate writing. And I'm back alone. Getting back into regular life and going back into eavesdropping. That is where everything comes from on some level: introspection. Took me a while, but I'm excited about it.
When do you think we'll hear?
I think I'm about five or six months pregnant.