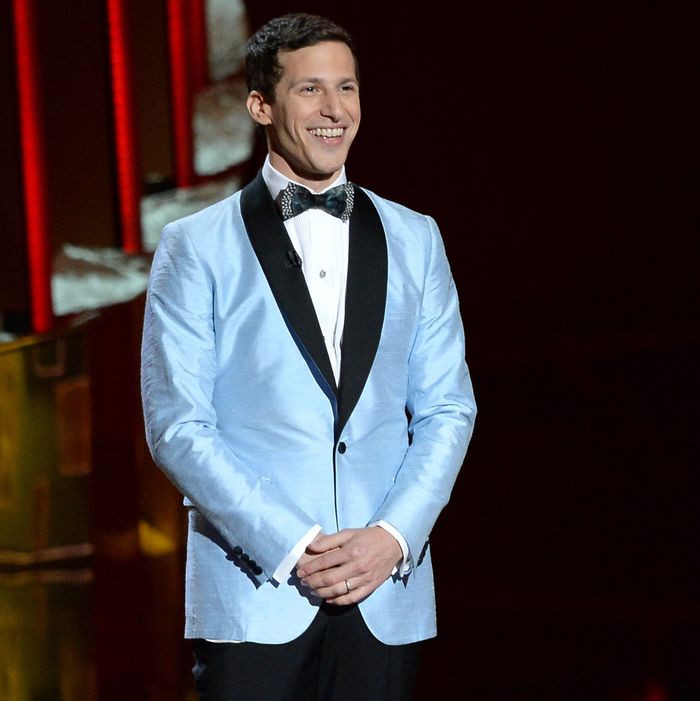 Andy Samberg.
Photo: Lester Cohen/WireImages
Sunday night's Emmys were historic, in large-scale cultural capacities and in tinier business-specific ways. There were upsets and surprises, moments of solemnity, and surprisingly little filler. There was also an overall tone of surprising niceness, a guilelessness that permeated the entire ceremony. Thanks in large part, though not entirely, to Andy Samberg's hosting, this might have been the least cynical Emmys ever.
Samberg, and Scott Aukerman, who was a writer on this year's awards, brought an informed goofiness to the proceedings. Not every joke landed, but this is a volume industry, and more is more. (We could all do without the "amateur gynecologist" line, though. Come on.) Last year's Emmys were rife with industry jokes, and Seth Meyers's style has a thread of contempt running through it. Not that there's not plenty to be contemptuous of, but it's a weird fit for an awards show. The year before, Neil Patrick Harris's hosting gig dragged and dragged — dance numbers, a tribute to the year 1963, and all those in memoriam packages. Before that was Jimmy Kimmel, whose whole m.o. is taking things down a peg. (Even children, who have done nothing to him!) Samberg's subversive niceness first took center stage at the 2013 roast of James Franco, where his whole bit was an anti-roast of sorts. This felt like an evolution of that character, of someone energetic and enthusiastic and patently uncruel. He wasn't rah-rah-Pollyana-kumbaya bullshitting, and he still got in digs at TV's overwhelming whiteness, its wage gap, and the possible survival of Jon Snow. There was an ass-eating Girls joke. A bad yet wonderful Olive Kitteridge pun. But overall, there was a welcome sense of, you know, this is supposed to be fun.
There was even a Mad Men–spoofing bit in which Samberg sang that he wanted to give everyone an Emmy. And everyone should accept, because the speeches last night were also ebullient and positive, even more so than at other awards ceremonies. Padma Lakshmi gushed on the red carpet about Top Chef's crew. Tony Hale mentioned how terrific everyone at Veep is to work with. Allison Janney reminded people struggling with addiction crises that "there is hope." Jane Anderson's acceptance speech for Olive Kitteridge doubles as a daily affirmation for anyone struggling with the drudgery of life. Watch Taraji P. Henson's elation over Regina King's win, and her and Viola Davis's embrace, and try not to feel encouraged.
Sure, the Emmys can be self-aggrandizing. We're not curing cancer here. But bread and roses, right? Representation does matter, and seeing someone like yourself onscreen — onstage, on a show — is validating and empowering in a unique way. And a speech can also be a platform. Using an acceptance speech as a political platform is not always a great idea, but last night it was used to perfect effect, with winners calling out areas of injustice not with defeat but with hope, with calls to action. Jill Soloway spoke about discrimination against trans people, including her parent; Jeffrey Tambor acknowledged the violence that trans people face, and unlike, say, Jared Leto, also dedicated his award and performance to the trans people he's representing. He reprised his lines from his Golden Globes acceptance speech, saying, "Thank you for letting us be part of the change," which is an elegant way to describe Transparent's role in the trans civil-rights discourse. Viola Davis, who became the first black woman to win an Emmy for Outstanding Actress in a Drama, lasered in on one of the ways Hollywood ignores women of color — "You cannot win an Emmy for roles that are simply not there" — and also saluted other black women who are turning in dazzling television performances. Davis's individual achievement is massive, so hearing her contextualize her win not only as part of a narrative about black women on television but also a narrative about black women in the history of America was powerful. That's how you write a goddamn speech, folks.
Awards shows don't need to be and probably shouldn't be pep rallies. But they also don't need to be bitter and snippy, and maybe our era of having Ricky Gervais do his shtick can draw to a close. Let's like things.