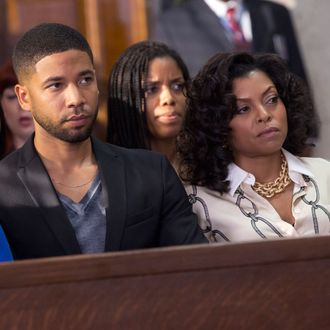 Jussie Smollett as Jamal Lyon (left) and Taraji P. Henson as Cookie Lyon.
Photo: Chuck Hodes/FOX
The force remains strong with Empire. Fox's drama phenomenon drew 16.2 million viewers to its season-two premiere, crushed every other program on Wednesday night, and, perhaps most important to the network, averaged a massive 6.7 rating among adult viewers under 50. That last number should make Empire the No. 1 entertainment series of premiere week in the under-50 demo and confirm that last spring's record ratings run was no fluke. Empire jumped 71 percent from this spring's series premiere, which Fox notes is the biggest sophomore increase for any broadcast show since the network's own House a decade ago. But while the return of Empire stands as a huge, unqualified victory for the show (and Fox), there was a sliver of good news for the other networks: At least for now, the show's Nielsen momentum appears to have peaked.
Massive as the Empire open was, it will rank as the first episode of the series not to attract a bigger audience than the episode before it. Each of last spring's 11 hours built upon the one before in total viewers, galloping from 9.9 million for the series premiere to 17.6 million for the March 18 season finale. Fox execs have for weeks tried to manage expectations for the Empire return, arguing that the six-month hiatus and the flood of original competition in the fall — not to mention the laws of gravity — made it unlikely the show would shatter yet another personal record. And yet many inside the TV industry were convinced there was an upside for the show, given all the hype around the first season and the likelihood that new viewers might try to catch up and hop on the bandwagon in season two. (Oddly, while Empire's first season was easily streamable online, Fox opted not to rerun the full season of the show during the summer, missing a chance to reach the tens of millions of viewers who simply don't do Netflix or Hulu.) The fact that Empire didn't grow — at least not in same-day ratings; it might yet show a gain in DVR-adjusted numbers — doesn't represent any sort of failure for Fox or the show. The series remains a phenomenon, and an anchor for the network. But for execs at other networks, there's likely a least a little relief that the juggernaut isn't getting any bigger — for now.
In addition to the great Empire numbers, Fox got a bonus bit of good news Thursday, with the premiere ratings for new drama Rosewood. Boosted by the halo from Empire, the crime drama opened to 7.4 million viewers and a 2.4 among adults under 50. While finishing third place in viewers, Rosewood ended in a near tie with CBS's Survivor for first place in the demo. It also dramatically improved Fox's performance in the time slot versus last fall's Hell's Kitchen (1.5 in adults under 50). Critics were savage in their assessment of the show, and it's possible audiences will reject it in the weeks ahead, but Fox at least got viewers to check out Rosewood, no small task in this age of endless TV. In addition, among adults under 50, Rosewood outperformed this week's much more aggressively marketed premieres of Fox freshmen Minority Report and Scream Queens, as well as CBS's endlessly touted Limitless. That represents the softness of those shows more than any underlying strength in Rosewood, but a win's a win. And Fox will take any win it can get this season.
Elsewhere Wednesday, as mighty as Empire was, the other networks didn't crumble in the Lyons' roar (even if they looked small in comparison). CBS's 238-year-old Survivor was down a tick from last fall, but still managed to be the most-watched show from 8 to 9 p.m., and the top rated in the demo. NBC's combo of Mysteries of Laura and Law & Order: SVU took a roughly 20 percent hit versus its usual ratings in the fall, but did okay. But outside of Fox, it was ABC that impressed Wednesday, with a solid, stable showing for its incumbent comedy lineup. The Middle and The Goldbergs matched its year-ago season openers in the key demo (a big deal these days, when erosion is the rule), and actually were up in overall audience. At 9:30 p.m., Black-ish, though down from its heavily hyped fall 2014 series premiere, had its best numbers among adults under 50 since November — a sign the show is having no problem holding on to its audience opposite the force of Empire. At 9 p.m., Modern Family opened a season with under 10 million viewers for the first time in seven seasons, and dropped about 15 percent year-to-year in the key demo. But the show still notched 9.3 million viewers and a 3.1 among adults under 50, which will land it in the top ten for the week and represents remarkable staying power for a comedy entering its seventh year. Plus, as is the case with many top shows now, Family will likely make up some of its same-day ratings erosion once DVR time-shifting numbers are tallied. Indeed, ABC research projects that within the next five weeks, the demo rating for Modern Family will more than double — to a 6.3 — after views via DVR, Hulu, ABC.com, and various video-on-demand platforms are tallied.