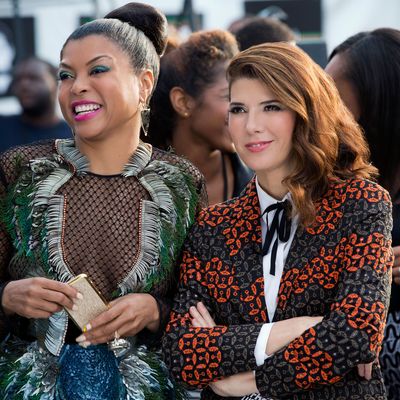 Cookie Lyon and Mimi Whiteman.
Photo: Chuck Hodes/FOX
If you told me yesterday, "Hey, Empire is gonna add Predatory Lesbian Schemer Oscar Winner Marisa Tomei to this season," I would have said, "If that's real, I'll eat my hat." I'm sitting here with half a Cubs baseball cap in my mouth, praising the brilliance of Predatory Lesbian Schemer Oscar Winner Marisa Tomei. The second she showed up in a high-end honky-tonk Florence and the Machine pantsuit, I thought we were in for a thrill ride.
Okay. This episode wasn't so much of a thrill ride as expert table-setting and reminders of the damage these people are capable of doing. A lot of the episode's immediate threats of violence were handled so swiftly that tension didn't get a chance to really seep into our bones. But who needs tension when you have Vogue contributing editor, former America's Next Top Model judge, and personal friend to Mariah Carey André Leon Talley (appropriately) clocking Cookie's 2013 "Heaven's Bird" Gucci dress? But really, Cookie, once J.Lo wears a dress on the cover of W, it's played out.
The episode starts with a fun cameo-filled #FreeLucious concert or, as I like to call it, "EMPIRE HAS FUN WITH THE NEWS!" As much fun as you can have at a rally calling out the prison-industrial complex. I appreciate calling out the prison-industrial complex and how it destroys black people's lives, but we all can say Lucious did it, so the whole move comes off a bit tone-deaf. What's next? Empire Records Presents the School to Prison Pipeline Pool Party? Whatever topical-event-inspired set piece the show does next isn't as tone-deaf as lowering Cookie in a gorilla suit into a cage to represent the struggle of the black man in America. Ooof. Seeing it written down is worse.
Plus, Al Sharpton was there.
The concert becomes the background for last season's hostile takeover to be brought back. Marisa Tomei plays Mimi Whiteman (because Mimi Caucasianberg was too on the nose?), who is going to invest a handsome sum of money in Empire, so Cookie, Hakeem, and Andre (and Boo Boo Kitty, I guess) can take controlling stake. Jamal is too busy singing in a white henley tee and white pants to notice everyone is scheming around him. Hakeem hates all the attention Jamal is getting, and his album keeps getting pushed back. Jamal is feeling the pressure of running Empire and trying to reconcile with his ex (while trying to reconcile being uncomfortable around other gay people or something). Andre is waking up in a cold sweat thinking about burying Vernon. Mercury in retrograde, am I right?
Meanwhile, Lucious is in prison being held without bail. He sees Cookie and Mimi whispering on TV and gets furious because that's what Lucious does. He produces hit records and hates gay people! Jamal visits his father in jail and they have a sweet little catchup sesh. Lucious says Vernon needs to be handled. Bruh, you straight-up in jail. You do not wanna talk about putting hits on people while you're literally in jail.
Cookie's cousin is in jail with Lucious and worries about retribution from Frank Gathers, the ominous drug dealer Cookie, et al, once worked for. Frank Gathers arrives in prison and he's played by … CHRIS ROCK. I hope this season is just a revolving door of famous black comedians in dramatic roles. Cedric the Entertainer as a conflicted defense attorney. Wanda Sykes as a washed-up '90s rap star. A hologram of Richard Pryor playing the ghost of Lucious's father.
Cookie and the Hostile-Takeover Gang throw a sexy lesbian party for Mimi complete with bitches makin' out in hot tubs. It's basically the same party they'd throw if Mimi were a man. This must be the Empire Sexy Bitches party package.
Lucious meets with a prosecutor wearing Tom Ford shoes. Oh! Television public servants with their designer shoes and big titties all out! She offers Lucious a deal, but he pegs her as a Clarence Thomas type more interested in tearing other black people down to win elections than making a difference. As he's leaving, he spots Gathers's tiny daughter rapping and has a secret visitor.
After Boo Boo Kitty in her cream twinset reluctantly agrees to sleep with Mimi, Mimi appears to be on Cookie's side, and the hostile takeover moves forward. We're only about halfway through this episode and Cookie is wearing a patchwork denim business jacket — this isn't going to end well. The one thing they didn't plan for was Mimi just being a straight-up cunning diva and double-crossing them. She's dressed like a sexy schoolmarm. Mimi is my new favorite character. She should be on every show. Mimi made a deal with Lucious and sneaked him a smartphone in jail for the creepiest FaceTime chat.
Meanwhile in prison, Cookie's cousin tells Frank Gathers that she snitched on him. Also in this scene, Frank Gathers has flashbacks to events he wasn't present for.
Cookie confronts Jamal about him partnering with Mimi. Jamal rejects Cookie's excuse that this was to help her other sons, and he's tired of hearing about that trash can we've all seen a thousand times. In 70 years, when they play the in memoriam clip for Jussie Langston Mikha Smollett, it will be him being put in that trash can.
Cookie storms off to her apartment, where her sister and her kids are playing with her wigs. Oh, to play in Cookie's wig room! You know she bought a two-bedroom apartment and gave her wigs and cocktail rings an entire room. I want to see that HGTV show — Cookie's Closet Revolution. Carol warns her that the roses that have been showing up all episode aren't a mistake this time. Cookie finds a mysterious box on her welcome mat. If she opens that box and it contains a hat, I'm eating ANOTHER hat.
DAMN IT. I'm gonna eat all of my hats by halfway through this season at this rate. The box contains Cookie's cousin's head in whiteface? Cookie rallies everyone to hide out at Lucious's mansion. Cookie teleports to jail to meet with Lucious. She doesn't feel sorry for him at all and has no time for his bullshit. And why should she? She spent 17 years in jail for him, and he never visited her. Lucious, on top of everything else … just isn't that considerate. As much as she hates him, Cookie knows that he's the only one who can take care of Gathers. But yo, quit planning hits within earshot of prison guards. Lucious and Frank meet in front of a chessboard because SYMBOLISM, and Frank laughs at the idea that Lucious is going to try to step to him. What Frank didn't consider is that Lucious's reach outside the prison can win over every freakin' inmate in the place. He's paying mortgages. He's paying hospital bills. He's getting people their favorite Haribo snacks. Sour Straws and Fizzy Coke for everybody! Frank can run the streets, but Lucious can run the world. And he's gonna fuck your daughter. And he's gonna kill you.
Jamal and Hakeem clash at the mansion, and Jamal reveals that he's going to never release Hakeem's album and smirks at him like a smarmy little snake. After Cookie says that the deed is done, Jamal kicks Cookie and the Hostile-Takeover gang out of the house. Cookie slaps him a few times, and Jamal coldly tells her "You done now, lady?" as he slams the door in her face. The Jamal doesn't fall far from the Lyon. Wait … is that how that saying goes?