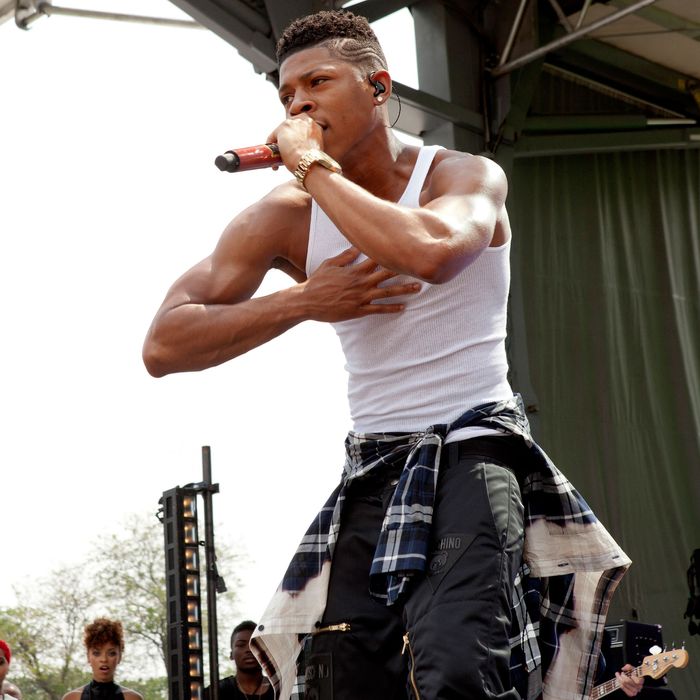 Will we get "Drip Drop" pt. 2?
Photo: Chuck Hodes/FOX
Get your faux-fur coats, BJ bibs, and broomsticks ready — Empire and the Lyon family are back for season two! We've got Lucious incarcerated for murder, Jamal now in charge of his father's dynasty, and Cookie … well, whatever Cookie has up her leopard-print sleeve this season, expect it to drop jaws. Join us as Vulture live-GIFS all of the I-can't-believe-they-aired-this moments from tonight's premiere, immediately after they happen during Fox's broadcast. We'll update this post after every such moment, so keep scrolling to find out how many trash-can flashbacks they'll make us suffer through again this season!
*****
And Cookie makes her season two debut wearing … a gorilla suit. How much longer will Empire continue to have no chill?
Here's where Empire got the inspiration for Cookie's guerilla political statement.

The reverend is in the building.

Hakeem's never been one for subtlety, and he sends his anti-#FreeLucious message loud and clear.

Finally, we meet Frank Gathers aka Chris Rock — the man Cookie "ain't no snitch" Lyon snitched on. Oops.

Welcome back, Michael.

Cookie finally has some competition for the one-liners.

And that's how you shmoney dance.

Miss Lawrence serving.

Hostile takeover, folks.