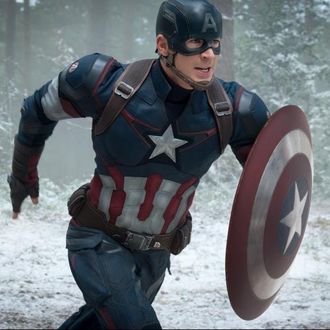 We've known for some time that Chris Evans, super tired of being famous, didn't just want to be an actor: He told Variety last year that he isn't interested in acting beyond the Marvel Cinematic Universe, explaining, "If I'm acting at all, it's going to be under Marvel contract, or I'm going to be directing." He's since made his directorial debut with 2014's Before We Go, but what's to come of his future as Captain America? After next year's Civil War, Evans only has two more films left on his Marvel contract, with both the Avengers: Infinity War movies, slated for 2018 and 2019. And he now tells Collider that, if possible, he'd like to remain in that role even longer:
Listen, if Marvel wants me they got me. I've never had such a relationship where you have such—I mean look at my resume, I'm used to being on set being like, 'Ah is this movie gonna be terrible?' Marvel just can't stop making great movies, they do it in their sleep. It's wonderful directors and producers and actors and scripts, and it's like a playground as an actor.
He also regrets his initial hesitation about signing on to do The First Avenger. "It's so mind-boggling that I was so tentative in the beginning to jump onboard. What an asshole I would be if I hadn't done this," he says. "I mean can you imagine? Kicking myself—I'd never forgive myself!"
Lucky for Evans, with some behind-the-scenes drama involving Civil War causing Marvel Studios head Kevin Feige to distance himself from Marvel Entertainment's CEO Ike Perlmutter, Feige may have the freedom to throw a few more dollar signs Evans's way — that is, if the post–Infinity War story keeps his character alive. So if all goes according to Evans's plan, he could potentially play Captain America for the rest of his career. Here's to another decade of cringe-worthy press tours!