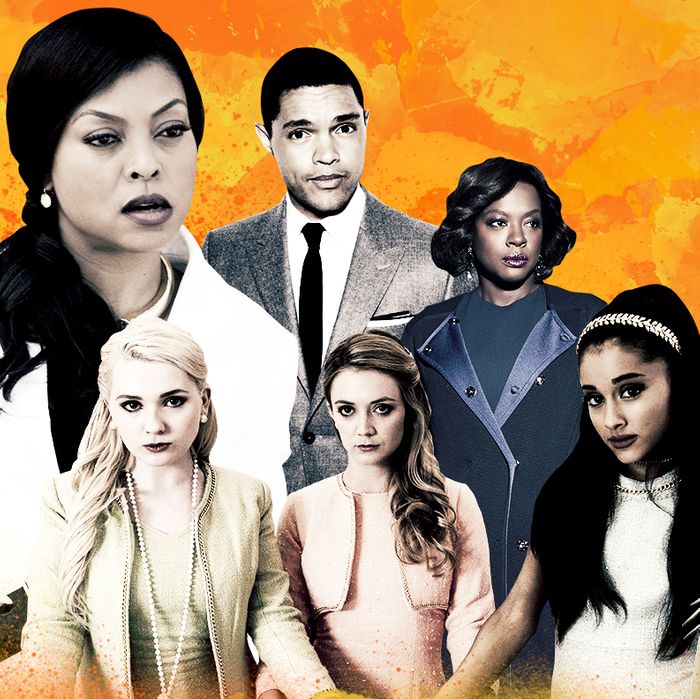 Photo: Illustration: Maya Robinson and Photos by FOX, Comedy Central and ABC
We are nothing if not a nation of laws, and according to the official arbiters of audience measurement at Nielsen, the 201516 television season begins today. Do you feel any different? In this age of bingeing and viewing on demand, the start of a new TV year isn't quite the Pop-Culture Moment it was even as recently as a decade ago. That's particularly true for younger viewers, many of whom are much more inclined to browse Netflix than park themselves in front of the tube for a network-dictated evening of Must-See TV. And yet, barring a total year-to-year collapse in the linear model, tens of millions of viewers will still return to the broadcast folks over the next few weeks, successfully wooed by months of marketing to check out the first episodes of The Muppets, Code Black, The Grinder, or one of the couple dozen other new shows. Many millions more are also eagerly awaiting returning hits such as The Big Bang Theory and Scandal. For all the talk of cord-cutting and VOD, the vast majority of viewers still consume shows the same week (if no longer the same night) they air, and Madison Avenue still buys billions of dollars in ad time on those broadcasts. There may be an expiration date on the linear-TV universe as we've known it, but the start of a new season remains a pretty big deal. It's just a different kind of big deal than it used to be. As the 2015–16 campaign begins, here are five things to keep in mind about where things stand in TV's Old-Yet-New World Order.
Overnight ratings still matter, just not in the same way they once did.
During last month's TV Critics Association press tour, a parade of network research executives hammered home a consistent message to journalists: Same-day ratings are now all but meaningless, and you really ought to ignore them. So, naturally, those same suits will be up at the crack of dawn Tuesday, and every day for the next few weeks, studying every decimal point in Nielsen's overnight report. It's not that our network friends are (complete) hypocrites. Their August sermons against the evils of overnight ratings were rooted in the fact that there really is no longer a straight line between the daily ratings report card and a show's ultimate worth to a network. CBS's Leslie Moonves, for example, has said repeatedly that a show such as Elementary, which barely moves the needle in its initial Thursday night telecasts, is actually a hugely profitable asset for the Eye, thanks to its value in the international market and on other non-linear platforms.
But even as networks are finding new ways to make lemonade out of sour Nielsen fruit, network TV is still a business geared toward creating big, broad hits. Elementary is fine, but Empire — a monster success by any metric — is the goal. These early Nielsen numbers won't predict the future for every show, but they'll go a long way toward letting execs know just how much work they'll have to do to make their investments pay off. Last year, for example, ABC realized it had a hit on its hands when the premiere of How to Get Away With Murder actually drew more viewers than its lead-in, the already-established hit Scandal. Conversely, Fox suits mentally moved Red Band Society to hospice care after the show pretty much flatlined its first week out, despite huge a huge marketing effort and an early premiere designed to let audiences find it before Modern Family and Criminal Minds returned with new episodes. Both shows didn't get their official notices of, respectively, renewal and cancellation until many months later; in reality, their fates were pretty much known the day after they launched. So, yes: It's possible, and even likely, there will be shows that premiere this week to so-so numbers, and yet end up staying on the air for 100 or more episodes. But for most, the ratings performance over the opening few weeks of the season will end up being a strong indicator of whether they return for a second season. Getting a lot of (demographically desirable) viewers to show up to a series the night it airs is still the quickest way to big profits in TV.
Empire is the most important TV show in the universe right now …
Okay, so that's a bit of a stretch. But Fox's surprise spring hit promises to dominate the early weeks of the new fall season like no other show on American TV right now. It's been at least a decade since a new series on any platform has exploded so quickly, and industry insiders — not to mention everyone who works at Fox — are anxiously waiting to see what becomes of the phenomenon in its second season. Creator Lee Daniels told The Hollywood Reporter last week that he was prepared for a ratings dip, a statement that either makes him a master in the art of lowering expectations or a steely-eyed realist who understands the current realities of the TV business. Fact is, sophomore slumps have become far more pronounced in recent years, with out-of-the-gate sensations such as 2 Broke Girls, Sleepy Hollow, New Girl, and The Blacklist all suffering precipitous Nielsen declines in their second seasons. Given the record-breaking pace Empire set in its shortened run earlier this year, it wouldn't at all be surprising if it cooled down somewhat.
And yet, more than a few industry insiders are predicting Empire could actually get even bigger, at least early on. Much the same way early '00s unscripted hits Survivor and American Idol grew from huge to supernova status between their first and second cycles, some believe Empire could benefit from a bandwagon effect: All the hype surrounding the show last spring may have convinced many viewers to catch up over the summer so that they could be part of the cultural conversation around the show in the fall. What's more, while Empire did well among viewers of all races during its first season, its ratings with white audiences were relatively small when compared to its Super Bowl–level performance among African-Americans. As one industry wag told us a few months ago, "There's plenty of upside left for it among white viewers." If such growth occurs, more Nielsen records could be in the works for Empire. And even if that growth doesn't materialize, the show promises to reshape the network race far more than it did in season one. Fox will air nearly twice as many episodes of the show this season, boosting the network's overall average while also having more time to do damage to ABC's Wednesday comedy block and CBS's Criminal Minds.
… But watch how TV's other sophomore shows perform, too: They may matter more than newcomers.
As noted earlier, it's become more and more common for promising first-year series to take a ratings dive in their second season. In addition, networks are being more patient than ever with many so-so ratings performers, realizing that in this era of Way Too Much TV, audiences often need more time to discover and, hopefully, embrace new shows. This fall will offer plenty of examples from both categories, giving ratings-watchers plenty to scrutinize.
Over at ABC, execs are no doubt most nervous about How to Get Away With Murder, which roared out of the gate last fall and maintained most (but not all) of its momentum over the course of its short first season. Given its cliff-hanger ending, it'll likely pop again with its premiere this week, but going forward, it could be hurt a bit by a factor out of its control: Lead-in Scandal started showing signs of ratings erosion last spring, ending what had been years of growth. It's not that Scandal suddenly fizzled; it's still a very big hit, particularly once DVR ratings are tallied. But if Scandal's same-day ratings keep going down, that means a smaller audience to bleed over to Murder. Plus, having solved the central mystery of season one, producers will now be tasked with coming up with an equally compelling story line for season two. There's no reason to think they're not up to the task, but: The degree of difficulty — and chances of stumbling— are greater than with a standard-issue procedural.
Not that it's easy being a meat-and-potatoes drama in 2015. CBS's Scorpion, for example, was a big hit on Mondays last season, and with no big new competition against it in the 9 p.m. time slot, it should once again do fine. But the Eye has seen diminishing results with its procedurals in recent years, with many viewers gravitating toward sexier serialized shows. It'll be interesting to see if Scorpion, which has more of a comic tone, can convince most of its first-year viewership to return. Likewise, pay close attention to the numbers for the CW's The Flash and Fox's Gotham, two comic-book hours that had strong freshman seasons. TV's last two fantasy hits — Marvel's Agents of S.H.I.E.L.D. and Sleepy Hollow — shed millions of viewers after their first heavily hyped seasons. Was that a function of bad story lines, or a sign that viewers of such shows get bored easily and move on?
As for sophomore shows with room for growth, ABC's Fresh Off the Boat seems a prime candidate to get a boost this fall. After having to be a self-starter during its short spring run, the critically hailed half-hour will now air behind The Muppets. Even if the latter series ends up struggling a few months from now — reviews have been mixed — early on, Kermit and Piggy should help FOTB get sampled by millions more viewers, who could then turn into regular viewers. (The Goldbergs got a similar lift a year ago, when it moved behind The Middle.) Meanwhile, the CW's Jane the Virgin didn't get the Emmy love it deserved, but the buzz on the show may have convinced audiences to catch up over the summer, possibly allowing it to build off its modestly rated first year. And over on cable, where buzz often counts more than ratings, the producers of FX's Fargo, Showtime's The Affair, and HBO's The Leftovers will try to prove their well-regarded first seasons weren't flukes.
Streaming networks will be a bigger factor than ever before.
Netflix, Hulu, and Amazon may not be concrete factors in the ratings race — Nielsen simply doesn't measure the audience for streaming shows, none of which have "time slots" — but subscription video on demand (SVOD) outlets are now serious competitors when it comes to vying for the attention of the audience. For one thing, they're all producing much more original content than even just one year ago, particularly Netflix. The latter network has been pushing new drug-lord drama Narcos hard in the days leading up to the start of the linear-TV fall season, and Sunday's Emmys, while dominated by HBO, also served as an advertisement for streaming series such as Transparent and Orange Is the New Black. And even more shows are to come. Amazon, which launched Hand of God earlier this month, will soon drop Red Oaks, The Man in the High Castle, and the second season of Transparent. Hulu, meanwhile, has been heavily marketing new episodes of former Fox comedy The Mindy Project, while also pushing its buzzy new half-hour Difficult People. And not to be outdone, Netflix's fourth-quarter plans include another Marvel series (Jessica Jones), the likely watercooler comedy Master of None (from Aziz Ansari), the Mr. Show reunion With Bob and David, and at least two theatrical movies (the Oscar contender Beasts of No Nation and the Adam Sandler–led The Ridiculous Six).
While networks still get a surge of viewership right at the start of the new season, it's becoming increasingly hard to ignore anecdotal evidence that viewers bored by broadcast are deciding instead to either check out online originals — or binge network and cable shows from a few years ago they missed when they aired the first time. (It's not really too much of a stretch to imagine a viewer checking out the first episode of, say, Fox's wan Rosewood, rejecting it, and then choosing to binge every season of Breaking Bad or The Good Wife.) Plus, as audiences grow more accustomed to the non-linear model, they're getting trained to understand there's no reason to watch a show on a network's schedule. Unless something breaks out big, and quickly — such as Empire or How to Get Away With Murder — many potential viewers might check out a new series premiere and then just decide to catch the rest of the run when it ends up on a streaming service a few months later. Or some tech-savvy consumers may also realize that the launch of an ad-free tier of Hulu means a major swath of broadcast network shows will now be available to watch, minus ads, just hours after running on TV.
This fall's failures could be spectacular.
Networks take risks every year, both in the kinds of shows they produce and how they schedule them. This season, however, features an unusually large number of gambles that, if they don't pay off, will end up being particularly painful (and even embarrassing) for the networks. ABC, for example, rushed a new version of The Muppets on the air, going from pilot green-light to premiere in barely six months. Alphabet chief Paul Lee was apparently convinced not only that Americans wanted a new series about their beloved felt friends, but that they wanted it as soon as humanly possible. It's a given the new Muppets will open big, given their brand recognition and online buzz about the show. But early reviews are decidedly mixed, and once people check out how Kermit et al. have been modernized, it's hardly a given the show will keep its big premiere audience. If four months from now we're talking about the underwhelming ratings for The Muppets, ABC will have done damage to a moderately important Disney-owned brand, while Lee will have to explain why he didn't give producers more time to get the show right. Nobody will notice if Dr. Ken goes kerplat on Fridays, but a Muppet misfire? That would sting. (Of course, if it's a hit, ABC will have cemented its status as TV's dominant broadcast network for comedies.)
Over at NBC, boss Robert Greenblatt placed an enormous bet on Neil Patrick Harris and his stunt/game show Best Time Ever. Other networks were very much interested in the combination of NPH and the show (which is based on the British staple Saturday Night Takeaway), and in order to win the package, Greenblatt agreed to pay at least $3 million per episode, according to two sources familiar with the negotiations. That's more money than most first-year comedies and many dramas, and much more expensive than the standard hour of unscripted fare. What's more, NBC's only real source of revenue for the show is through advertising, which means ratings will have to be pretty big for it to make money in season one. Only one episode has aired so far, and while the ratings weren't awful, Best Time didn't particularly soar, either. If the show fails to make it to season two, Greenblatt will take flak internally for spending so much on a form of TV — the variety show — that hasn't worked in prime time for decades.
A few other rolls of the dice could also cause significant angst for their respective networks. Fox has spent months touting Ryan Murphy's Scream Queens, betting a PG-13 version of American Horror Story with even more humor can work on a broadcast network. It's the first big show to be developed completely under the auspices of new Fox chiefs Dana Walden and Gary Newman, and a flop would be massively disappointing. CBS, meanwhile, is trying to break out of the procedural mold with superhero drama Supergirl, and at the same time, it's trying to get into the sophisticated single-camera comedy business with Life in Pieces and Angel From Hell. There'll be no shame if these efforts to color outside the lines — and grab younger viewers — go splat. But the network will probably have to endure another round of "CBS Is the Old Folks' Network" if they do.
Finally, over at Comedy Central, the network's signature late-night franchise, The Daily Show, is changing hosts just as a presidential election cycle starts to heat up. Ratings will likely (and perhaps unavoidably) take a hit in the post–Jon Stewart era, but the bigger test for new anchor Trevor Noah will be whether he can generate positive buzz and online chatter for the show. If he can't, Comedy Central's failure to hold on to logical Stewart successors such as Stephen Colbert, John Oliver, and Samantha Bee will be all the more glaring.