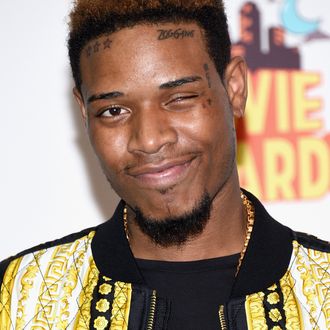 Fetty Wap.
Photo: Michael Buckner/2015 Getty Images
One day after the release of his self-titled, debut album, Fetty Wap wound up in a head-on motorcycle collision that sent him straight to the hospital. The rapper, according to reports, had tried to pass a car while riding around his hometown of Paterson, New Jersey, but didn't see another vehicle coming straight for him in the next lane. "Fetty Wap was involved in a motorcycle incident earlier today," Fetty's rep wrote in a statement released to the media this weekend. "He was treated at a local hospital and is in stable condition. His family wants to thank everyone for their outpouring of love and support. They ask that you respect their privacy during this time. We will provide an update on his condition as it becomes available." Although he was wasn't wearing a helmet, Fetty ultimately dodged life-threatening injuries, walking away from the crash with his leg broken in three places. He gave his fans the update via Instagram on Sunday night:
The driver in the car Fetty collided with was also reportedly harmed; however, the severity of their injuries was unknown at the time of publication. The recovering rapper has since been cited and issued summonses for driving without a license, insurance, and vehicle registration.