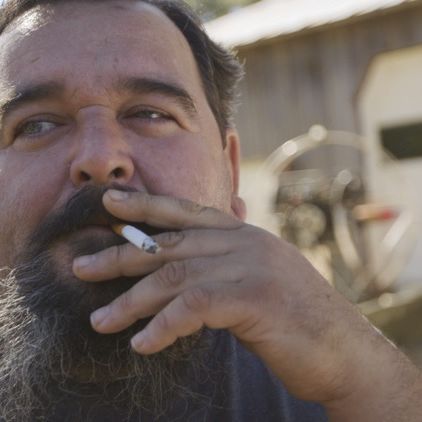 In 2007, a North Carolina man named Shannon Whisnant bought the contents of an abandoned storage unit at auction. Inside the unit was a smoker. Inside the smoker, a mummified human foot. Ever watchful for an opportunity to gain fame and make a quick buck, Whisnant tried to parlay his find into a tourist attraction, charging three bucks for a peek at the leathery limb; he even had t-shirts and other merchandise made, dubbing himself "The Foot Man." But go figure, the foot did indeed belong to someone: John Wood, who had lost it after a plane crash in 2004 that also took the life of his father. He had saved it because he wanted eventually to be buried with it, but he fell on hard times, struggled with addiction, lost his home, and, eventually, his storage unit.
That's a pretty fascinating story right there, but in the documentary Finders Keepers, directors Clay Tweel and Bryan Carberry find something more in it: The story of two men struggling with their respective demons. Wood had lived in the disapproving shadow of his larger-than-life father, who was a furniture store owner, erstwhile daredevil, and bush pilot. When they took the plane up that one last time, it was meant to be a final farewell to the aircraft after dad had finally sold it; John was copiloting, and blames himself for the crash to this day. Whisnant also had a troubled life, but it wasn't nearly so strange; his family was poor, and his father remorselessly abusive. The two men grew up in the same town, on opposite sides of the class divide. "If you didn't have your birthday party at John Wood's house, then you were nobody," Whisnant recalls. "I guess I'm a nobody." The foot might be a branding opportunity for him, but it's also, we realize, a cosmic righting of the scales.
But that's all prologue, in a sense. As Whisnant and Wood struggle over ownership of the limb, other issues come into play. Legally speaking, Whisnant owns the foot, since he bought it. But morally speaking, it's Wood's. How then do we reconcile that? Meanwhile, their unresolved conflict continues to bring them public notoriety, which is just fine for Whisnant; his goal in life is to be famous, and he seizes the chance to gab on about their feud on the radio, on TV talk shows, in front of news cameras. Wood, however, is slipping further and further into the darkness. His addictions have never gone away, and he's become estranged from his family. The foot was once a symbol of his father, but gradually, it transforms into a symbol of how much John's own life has spun out of control.
Would you believe me if I told you the story gets even crazier as it goes along? It becomes more touching, too. Both these men, as well as their families, have their own brand of eloquence. The portly Whisnant can be a fast-talking salesman one minute, gruff and terse and bitter the next. Meanwhile, Wood speaks with a bewildered directness, as if he can't believe all the ways in which he's screwed up his life. Directors Tweel and Carberry keep them talking, and the film expands as it goes along. It's a tale of class privilege gone wrong, the relentless hunger for fame, stoic mourning and submerged family neuroses, and the crazy contortions caused by money and ownership. In 82 svelte minutes, Finders Keepers encapsulates something ineffable about the modern American experience.