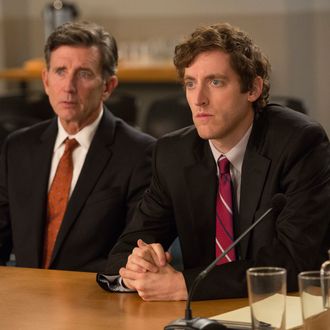 Silicon Valley.
Photo: John P. Johnson/HBO/John P Johnson
(Warning: If you're not caught up with Silicon Valley, spoilers follow.)
Before the long weekend kicked off, Blake Ross, co-creator and founder of Firefox and former Facebook employee, published a spec script of sorts for one of his favorite shows: Silicon Valley. "I couldn't wait 8 more months for season 3 of Silicon Valley to start, so I spent the past 48 hours writing my own episode," Ross wrote on Facebook. "This is my first television script ever, which means it's probably the roughest draft I've ever shared. I plan to do this a thousand more times until I figure out the medium."
The screenplay picks up where season two left off, and follows the Pied Piper employees as they search for a new CEO. As many fans have noted, much of Ross's writing hews true to the show, with similarly witty tech-flavored zingers ("You sound like Siri having a stroke"), spot-on character interactions (Gilfoyle attacking Dinesh's mom and culture), and a hint of surrealism (Richard interviews job candidates with Erlich's pot-infused questions).
In an ensuing interview with TechCrunch, Ross floated the idea of penning an entire season of his own Silicon Valley episodes. "Silicon Valley has a chance to show what is really happening in a way that is funny but also authentic — sort of like Jon Stewart. The companies themselves can't do it because it just comes off as a marketing agenda," said Ross, who noted that anyone who wants to write for the show should have to work for AOL for at least a year.
You can check out TC's interview with Ross, and read the script here.