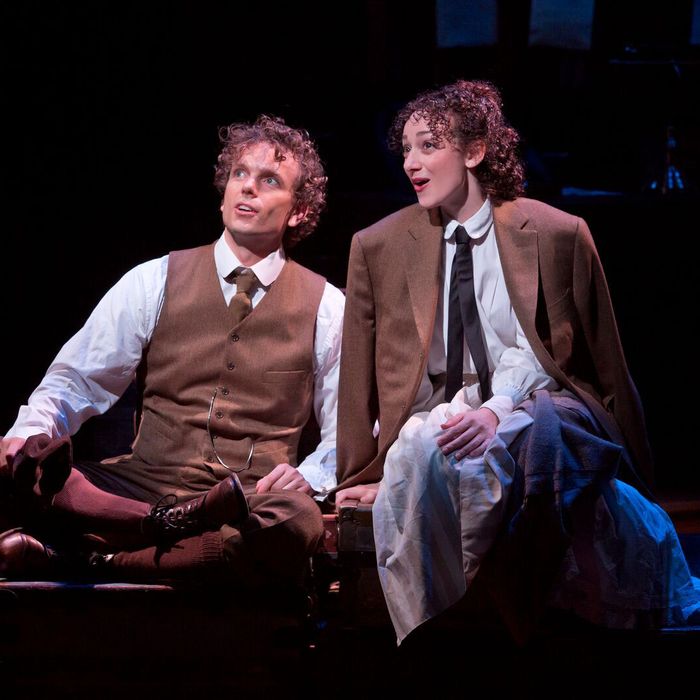 From Daddy Long Legs, at the Davenport.
Photo: Jeremy Daniel
Theater composers seem to have a thing for "beloved" novels about ambitious girls, usually orphaned, making their way in an unwelcoming world. There's a good reason for it, too: Such novels are typically in the public domain. Certainly it's not because Jane Eyre (1847) and Little Women (1868) and Anne of Green Gables (1908) and The Secret Garden (1911) have made good musicals; only the last, which opened on Broadway in 1991, is bearable. Something about the very belovedness of these works makes them resistant to adaptation, perhaps because they encourage a worshipful approach to a process that benefits more from benign disrespect. 
In any case, the authors of that 2000 Jane Eyre musical — Paul Gordon (music and lyrics) and John Caird (book and direction) — are back at it with Daddy Long Legs. They should have known better. Not only does Jean Webster's 1912 novel (styled Daddy-Long-Legs) cover very similar terrain, it also includes a booby trap: It's epistolary. In a series of letters from young Jerusha Abbott to a secret benefactor called Mr. Smith, it tells the story of an orphan plucked from an asylum and dropped into an upper-crust girl's college so that she may become a writer. The novel is charming, demonstrating through the one-sided correspondence Jerusha's intellectual and romantic growth, and eventually fusing them in the revelation of the secret. 
But for several reasons, all amply demonstrated in the two-actor version of Daddy Long Legs that opened Off Broadway tonight, the epistolary form is absolutely deadly for a musical — especially one with 27 numbers that is all but sung-through. In this configuration, a libretto cannot keep a secret; we know the identity of the benefactor from the start. (Hint: He is the guy onstage.) And where there is no surprise, there can only be interminable waiting. Beyond that, our Mr. Smith is dramatically null, since part of his peculiar deal with Jerusha is that he will not respond to or even acknowledge her letters. For much of the show this leaves him with little to do but sing portions of hers, often in harmony with her "writing" of them; no new information is thus provided except that Paul Alexander Nolan, who plays him, has a very nice voice. (When Mr. Smith takes on a second persona and enters the action directly, things improve somewhat.) The lopsidedness of the drama has the further effect of putting a huge burden on Megan McGinnis, who as Jerusha has what is called a very big sing. Her task is made more difficult by the generically pretty but structureless numbers, which make you feel like you're paddling in a suspiciously warm pool. Based mostly on noodly little figures, and with lyric hooks like "Things I Don't Know" and "The Secret of Happiness," the songs have no character except when they have the wrong character. Does Lite Rock conjure gaslit Manhattan to you?
You might think that Caird, a co-director of the RSC Nicholas Nickleby and the original Les Miz, would have noticed these difficulties and headed them off. Alas, his epic touch leads him astray with material that is the opposite of epic; it's almost entirely internal. Perhaps it's fitting, under the circumstances, that the male authors' hides are saved by the plucky orphan girl. A Broadway Eponine — and Beth in the 2005 Little Women — McGinnis has both the guts and the delicacy to put this material across. She also has the voice: technically perfect and fully inhabited. That she made the friend I came with (and several tweens in the audience) tear up should perhaps not be taken as an endorsement of the show; she could probably do that by singing (as they say) the phone book. I'd rather she had.
* * *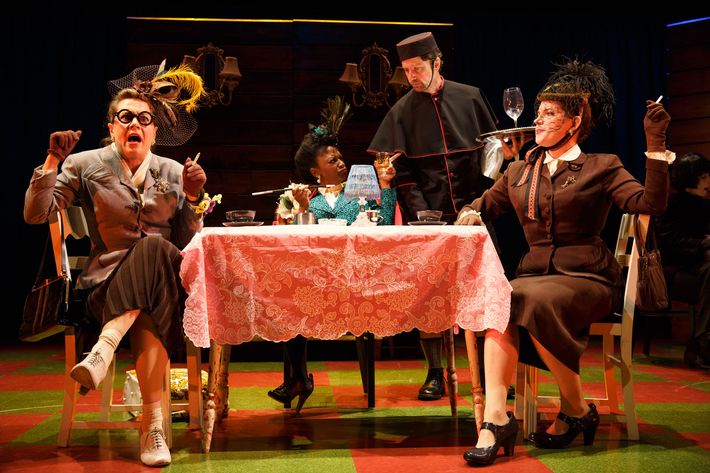 The credits for Fondly, Collette Richland, a new play at New York Theater Workshop, indicate that it is by Sibyl Kempson yet also created (and performed) by Elevator Repair Service. That's an odd distinction; perhaps they wanted to spread the blame around. Both Kempson and the ERS collective are respected figures on the Off–Off Broadway scene; ERS is responsible for the unlikely hit Gatz, basically a staged reading of The Great Gatsby. But what they have made together here gives surrealism, already the last refuge of scoundrels, an even worse name. And that's saying a lot in a play whose characters include Mabrel Fitzhubert, Joan Ham Hobhouse, Father Mumbles, Local Representative Wheatsun, the Krampus, the Cat Butler, and the Face of the Ghost of Jesus Christ. 
It's bad enough that Fondly, Collette Richland is so aggressively nonsensical. All I can really pick out of the wreckage of weird idiolects and jarring non sequiturs is the faintest of story lines and a vaguely possible theme. The former involves a dreary couple — the Fitzhuberts — in whose home is a secret passageway that leads to an Alpine lodge. There they encounter monsters that seem to pose an existential threat. The theme might be the urgency of awakening human consciousness to the never-ending struggle for the soul of the world. Or it might be the desperation of people (especially writers) for whom reality proves too difficult. Either way, it is clearly not the authors' intention that we come away from the play with a specific sense of what happened; they do everything they can to wave us away, as if from the scene of an accident.
At that, they are successful. On the night I attended, about a third of the audience left during the intermission, which finally arrived after nearly two hours. I have to believe that those who remained did so mostly out of politeness, believing that anyone with a vision so specifically bizarre must mean something important by it. I'm not convinced. Even if I were, I'd have left if I could, because worse than the nonsense — a lazy Susan of surrealistic clichés — is the aggression and insularity behind it. Rarely have I seen a play so eager to baffle and thus exclude anyone who might attempt to engage it. Perhaps that's the point: that connection, a core value of traditional drama, is a dead end. (Early on, Mabrel Fitzhubert says, or rather shouts, "We will prefer to have no dramatic action this evening!") Is the actors' exhaustively ironic delivery of the dialogue meant to indicate a secret knowledge of its meaninglessness? That might be a provocative observation to make about humans if you weren't boring 200 of them to death in the process.
Make that 133.
Daddy Long Legs is at the Davenport Theatre.
Fondly, Collette Richland is at the New York Theatre Workshop through October 25.