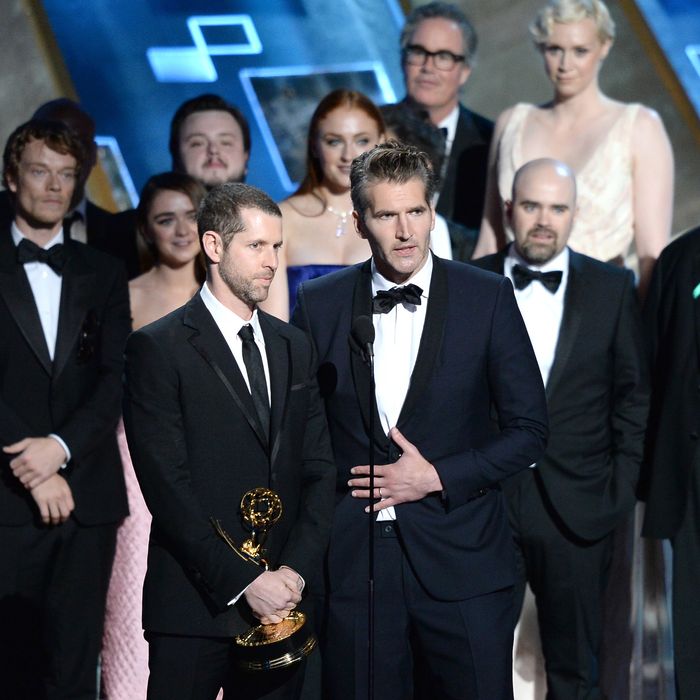 Showrunner D.B. Weiss accepts Game of Thrones' Emmy award for Best Drama.
Photo: Lester Cohen/WireImages
On Sunday night, Game of Thrones had the best night in Emmys history: With 12 wins (eight of them at the Creative Arts Emmys), the show shattered the record for the most Emmys awarded to a show in a single year. In a night with no really egregious wins — even those who were snubbed, like Amy Poehler, lost out to equally deserving talents — Thrones' domination, after a season where it shed prominent fans, became the most controversial aspect of the awards. No one would deny that Thrones deserved each and every one of its eight creative arts awards, but was it really the best drama on TV this year?
Well, probably not. Thrones' fifth season wasn't the sin against television its loudest critics made it out to be, but it was far from the show at its best. The new Dornish subplot struggled to justify its existence; Brienne spent a season waiting for a candle; and just like George R.R. Martin, David Benioff and D.B. Weiss couldn't find a way to make the internal politics of Meereen as engaging as the battle for the Iron Throne. It's debatable whether or not this was the show's worst season — in a ten-episode stretch that gave us Hardhome, Jonathan Pryce, and that bit about cock merchants, we'll simply say it was "uneven" — but making a case for its Best Drama win based on quality is a thorny proposition.
That's not how the Emmys, or any awards show, has ever worked, though. There are plenty of extratextual reasons for Thrones' big win, and all of them, in the murky universe of televised awards shows, are more or less reasonable. Maybe the voting pool, which was expanded this year, was honoring GOT for being the massive culturewide smash everyone says we don't have anymore. Or maybe this was a makeup win for Thrones' third and fourth seasons, great television that had the bad luck to compete against the final two years of Breaking Bad. Either way, it's hard to begrudge the show for winning this particular race: Downton Abbey, House of Cards, and Homeland were all worse last season; Orange Is the New Black is still in the dramedy netherworld, no matter what the new Emmy rules say; Better Call Saul is just getting started; and Mad Men … well, yes, it would have been nice to see Mad Men win for its final season. But while Jon Hamm spent his career getting snubbed every September, we should remember that Mad Men itself did not. It won Best Drama four years in a row, a Louis-Dreyfus-ian level of domination! Right now, Game of Thrones has won 25 percent of the Best Drama Emmys that Mad Men has — in ten years, that will seem exactly right.
What about Thrones' other three wins of the night? One of them was a fair call: We weren't huge fans of Thrones' fifth-season finale, but David Nutter deserved his Best Director win for skillfully juggling the proceedings. As for the other two, woof. The best thing you can say about Peter Dinklage's win for Best Supporting Actor was that even Dinklage himself knew it should have gone to Jonathan Banks. And Benioff and Weiss's Best Writing award for the finale means that the line "You want a good girl, but you need a bad pussy" has now earned the Emmys imprimatur of quality. We've said it before, but there's no other way to feel: Shame. Shame. Shame.
If there is a fear about Game of Thrones' wins, it's what it signifies for the Emmys' future. The new voting rules have gotten rid of old safeguards meant to ensure that only viewers who had seen every nominee could choose. Now the risk is that the awards will turn into a name-recognition competition, with voters choosing shows they already like instead of researching the field. If that happens, get ready to see a lot more of Benioff and Weiss at the podium at future Emmys; let's hope next time they earn it.