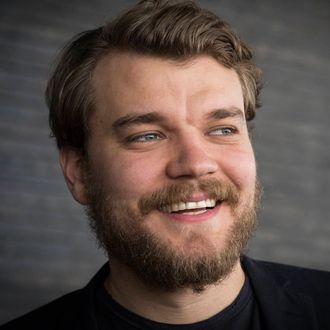 Borgen? I hardly know 'im!
Photo: Hanne Juul/All Over Press Denmar/Corbis
According to an eagle-eyed source for Watchers on the Wall, Danish actor Pilou Asbæk has been cast in the role we all assume is Euron Greyjoy, the swaggering sex-pirate uncle of Theon and Yara. Asbæk, a veteran of Borgen and The Borgias, was spotted filming A Feast for Crows' pivotal Kingsmoot scene in Northern Ireland this week, alongside Gemma Whelan and an actor who appeared to be playing a role similar to Aeron Greyjoy in the books. As suspected, Victarion Greyjoy was nowhere to be seen; he's likely joined Arianne and Quentyn Martell in book-only purgatory. And now the race to figure out who Ian McShane is playing narrows down to two: Will he be Randyll Tarly or Septon Meribald? Either way, we can't wait to hear him curse once more.