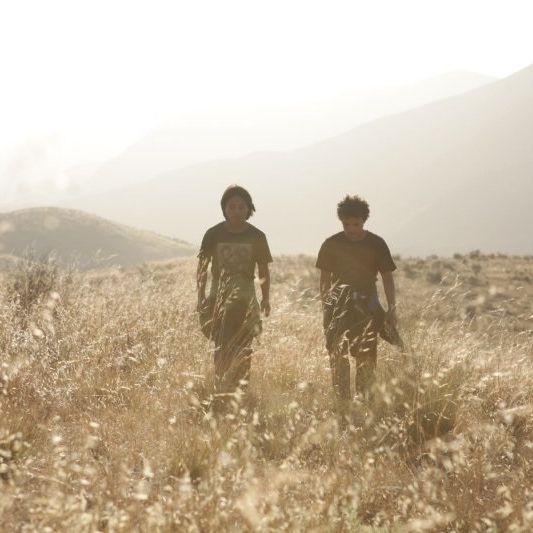 The new Mexican film The Golden Dream takes on a timely subject in a timeless way. It's an expressive, touching look at four teenagers making their way from Guatemala through Mexico in an attempt to reach the United States, and it arrives in theaters at a time when the "immigration debate" has reached a fever pitch worldwide. But don't expect incendiary topicality from The Golden Dream; this is more poetry than politics.
The film starts off wordlessly, in an unnamed shantytown somewhere in Guatemala, and it's unclear whether this is just a pit stop on a longer journey or a point of origin for three of the film's protagonists. It may very well be the latter, but the uncertainty seems pointed: This tentative, destitute space feels in no way like home. When we first meet Juan (Brandon López), Sara (Karen Martínez), and Samuel (Carlos Chajon), they're preparing for the road ahead; we see Sara cutting her hair and covering up her breasts with a wrap to make herself look more like a boy. But they're still not really ready for the journey. When it comes time to hop a moving train, Juan tells the others to follow him, then petulantly chides them for their incompetence, even though he's the one too afraid to make the leap. They are, in the end, kids. (Later in the film, a cut from an actual train to a toy train in a window display is particularly haunting.)
The trio are soon joined by Chauk (Rodolfo Dominguez), a Tzotzil Indian from Chiapas who speaks not a word of English but is clearly better suited for survival than they are: He's more resourceful, and tougher. (At one point, the three Guatemalans argue over how to kill a chicken they've stolen for food, while Chauk calmly wrings its neck.) A strange attraction between Sara and the Indian boy develops, which starts to test the jealousy of immature dreamer Juan, who fancies himself something of a cowboy but has yet to learn the courage to go with his stolen cowboy boots. The film doesn't settle into a love triangle, however; rather, it uses these shifting relationships to show just how much growing up these kids have to do on their ghastly journey.
The Golden Dream presents us with unspeakable horrors, but it refuses to rub our faces in them. The suggested nature of these horrors makes them that much worse; it puts the onus on us, and our imaginations, to fill in the gaps. Visually, the film is ravishing. Director Diego Quemada-Diez, who has previously worked as a camera operator for folks like Spike Lee and Alejandro González Iñárritu, has an understated sensibility that mixes the naturalistic and the unreal. He keeps his camera at ground level, with the horizon usually in frame. That gives even the most mundane scenes a romantic aura. There's a dreamlike pull to the film's endless scenes of train tracks and freight cars, lumbering through both majestic vistas and devastated neighborhoods.
Even so, the film's mix of grit and grace is unostentatious: Quemada-Diez mostly lets the story and the characters carry us along as he subtly introduces new stylistic elements. Much of the first half is eerily quiet. Later, when a lyrical score intrudes, it seems to introduce a new spiritual leg on the voyage. Even later, we hear two of the characters' thoughts on the soundtrack — something you'd think would be jarring in a movie that often eschews dialogue, yet feels just right in context. This is a quiet, unassuming film whose power and beauty sneak up on you.