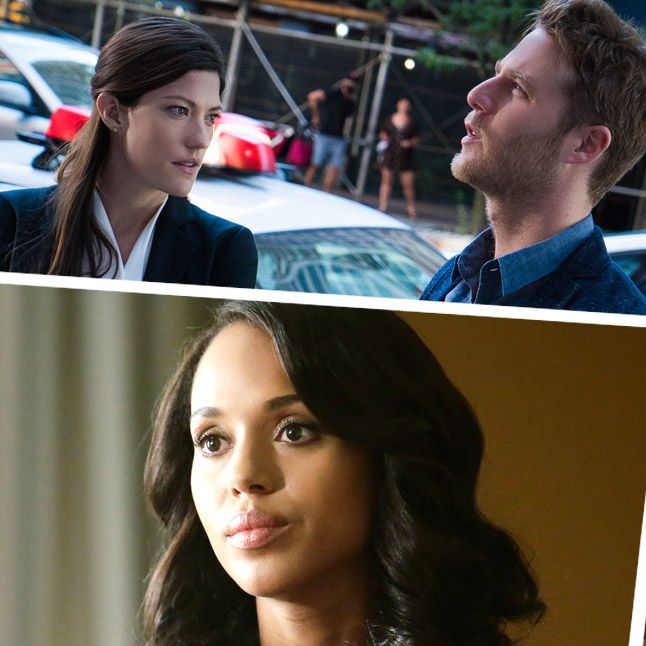 Photo: FOX, NBC, ABC, CBS
The first week of the 2015–16 television season belongs to history now, and if there's any good news for the broadcast networks, it is this: Viewers, particularly older ones, are still interested in seeing what linear TV has to offer. Big hits such as Empire, The Big Bang Theory, NCIS, Scandal, Dancing With the Stars, and The Voice all attracted more than 10 million viewers in same-day ratings; with DVR replays tallied, the first three series were seen by over 20 million. But while the networks remain capable of drawing a crowd with old favorites, younger viewers continue to play hard-to-get. During premiere week last fall, four new shows (How to Get Away With Murder, Scorpion, Black-ish, and Gotham) managed to pull above a 3 rating the night they aired in the key demo of viewers under 50. Last week, only NBC's Blindspot could make a similar claim. Critics have been unenthusiastic about most of this fall's freshman series, and early numbers suggest actual viewers may not be that much more excited.
That said, networks have become increasingly adroit at figuring out ways to survive in a world of delayed and depressed viewing. (Hannibal lasted three whole seasons, despite averaging under 3 million same-day viewers for most of its 39-episode life.) Plus, even more so than in past years, the first week of the TV season offers only hints of what the rest of the year will look like for both individual shows and networks as a whole. So rather than sum up last week with a list of winners and losers, Vulture decided on a more general assessment: Here's our look at what should be making execs at each of the Big Four broadcasters happy, and what ought to be giving them pause.
ABC
Why it was a good week: The Muppets got a warm welcome back to television, with over 11 million viewers checking out the new adventures of Kermit and Miss Piggy. Name recognition and a monster marketing effort always made it more likely than not the series would bow strongly, but as Fox proved with the endlessly touted Scream Queens, great marketing isn't enough to guarantee big crowds out of the gate anymore. The strong debut for Muppets also boosted tune-ins for the second season premiere of Fresh Off the Boat, which is increasingly looking like a long-term player. The good news for the Tuesday comedies is even better when combined with the fact that ABC's Wednesday comedy block returned strongly, weathering the brutal competition from Fox's Empire and solidifying its status as broadcast TV's most cohesive (and successful) two-hour sitcom lineup. (One show, The Goldbergs, even grew compared to last year, something that rarely happens these days with third-year shows.) Meanwhile, new Sunday drama Quantico got off to a fast start last night, beating the CSI finale among viewers under 50 and dramatically improving the 10 p.m. slot versus what Revenge did in the hour last fall. And on Thursdays, the Shonda Rhimes–produced TGIT drama extravaganza remained must-see TV for millions of young female viewers, with Grey's Anatomy in particular continuing to defy Nielsen gravity.
Why it was a bad week: Despite the relative strength of ABC's Thursday block, execs at the network had to be mildly disappointed at the so-so same-day numbers for How to Get Away With Murder. The show was never going to match the numbers of its extensively promoted series premiere, of course. But coming off huge buzz for season one and Sunday's Emmy win by lead Viola Davis, it was a bit surprising to see the show score its least-watched episode ever in same-day viewers. That said, HTGAWM made mincemeat of NBC newcomer The Player and, among ABC's target of adults under 50, looks like a giant compared to the network's other weeknight 10 p.m. dramas, Castle and Nashville. It's also possible it will get a larger-than-usual boost once nonlinear viewing platforms are tallied. One other gloomy development for ABC: Once Upon a Time, which traditionally starts off each new season with a bang, returned with no such pop this year. It matched its demo rating from its May season finale, but drew half as many young viewers as last fall's Frozen-themed opener. It also provided little help to 9 p.m. newcomer Blood & Oil, which got some sampling but wasn't any better than ABC's quick-fading Resurrection.
CBS

Why it was a good week: Two of the network's biggest promotional priorities for the fall — drama Limitless and comedy Life in Pieces — got seen by more than 13 million viewers, putting them on a par with the week-one sampling for CBS's fall 2014 big guns (Scorpion and Madam Secretary). Limitless had the more successful launch of the two, improving on its NCIS: Quantum Leap lead-in with viewers under 50 and jumping a strong 55 percent after three days of DVR time-shifting. CBS also got another strong premiere out of Survivor, which won the 8 p.m. Wednesday hour among viewers under 50 even in its 15th year. And overall, in an era when networks are settling for smaller audiences and counting on viewers to catch up online or via DVR, CBS still (easily) boasted more shows that drew 10 million or more same-day viewers than any other network.
Why it was a bad week: The NCIS franchise remains a magnet for older viewers, but among those under 50, it's showing serious signs of erosion. The original is still in fine shape, averaging a strong 3.4 rating in the demo last week (including three days of DVR replays). But on Monday, NCIS: LA drew half as many overall viewers as the mothership and was down roughly 30 percent versus its 2014 season opener. And on Tuesday, NCIS: Quantum Leap lost more than a quarter of its demo audience versus its 2015 season premiere (though it was up a tick versus its May season one finale). These aren't disastrous numbers, and CBS makes a tidy profit on all three shows. But expanding to three installments of NCIS has not yielded blockbuster results. 
NBC

Why it was a good week: New Monday drama Blindspot got off to a roaring start, drawing a strong 15 million viewers for its first outing (including DVR replays) and easily ranking as the season's top new series launch to-date among adults under 50 (with a 4.5 rating). Ever better for NBC: The Blindspot debut was down barely 10 percent versus the season-two premiere of Blacklist in the 10 p.m. Monday hour. Assuming Blacklist continues to do decently on Thursdays, success for Blindspot will validate the Peacock's plan of shifting the James Spader drama in order to allow The Voice to incubate a new hit. The other bit of good news for NBC's Thursday came in the form of a decent start for Heroes Reborn, which pretty much matched the ratings performance of the 2010 Heroes series finale. This is network TV in 2015: Numbers considered dreadful five years ago are now regarded as pretty good.
Why it was a bad week: Not all is sunny on NBC Thursday, however. The heavily promoted Wesley Snipes adventure The Player lost a massive 40 percent of its Heroes Reborn lead-in among viewers under 50 (though older viewers pretty much stuck around), and couldn't even crack 5 million same-day viewers. It's possible the show will get a lift this week, when Blacklist returns and gives it a more compatible audience lead-in. But at least so far, The Player is shaping up to be a losing bet for NBC. Meanwhile, the Neil Patrick Harris–led Best Time Ever is not looking all that strong after two weeks on the air. Yes, the show's ratings were decent, thanks to a strong lead-in from The Voice. But viewers fled halfway through the episode, and NBC execs decided to delay a planned move to 8 p.m. Tuesday this week. That's a sign Peacock execs are worried BTE hasn't yet closed the deal with the audience.
Fox

Why it was a good week: Empire made its fall debut, and it turned out to be every bit the phenomenon it was when it launched last winter. Including three days of DVR replays, the hip-hop soap scored a stunning 20.8 million viewers and an 8.7 rating with viewers under 50, essentially matching its March finale tune-in. The halo effect from the show extended to lead-in Rosewood, which outrated Fox's much more heavily promoted drama newcomers Scream Queens and Minority Report. As for SQ, the Ryan Murphy series won't be the breakout hit the network had hoped for when it launched a nearly yearlong promotional campaign for it last winter. The network has been aggressively pointing out how well the series is doing via nonlinear platforms and on social media, and appropriately so: Same-day Nielsen ratings aren't the only (or even the main) path toward profitability for networks in 2015. SQ absolutely connected with a core audience of young women last week, the same audience that has kept New Girl on the air for five seasons, despite big annual declines in overall viewership. It remains a player for Fox, something that could not be said at this point last fall for the network's Red Band Society or Utopia. Meanwhile, Fox can also breathe a sigh of relief regarding Last Man on Earth. The quirky comedy-drama from Will Forte matched its spring finale numbers and, if season one is a guide, is poised for big DVR gains.
Why it was a bad week: Minority Report opened to shockingly low numbers, so low they made last season's depressed ratings for Sleepy Hollow season two look appealing by comparison. And while Last Man fit in fine on Fox's Sunday lineup, overall numbers for the comedy block remain depressed versus even just a few years ago, with Family Guy in particular showing its age. As for Scream Queens, despite the case for optimism, the network spent many months and millions marketing a Murphy show — and only 4 million viewers bothered to show up the night it aired. Even among viewers under 50, the series bowed to a 1.7 rating, nearly identical to the number Murphy's American Horror Story launched with just four years ago. Sure, TV is rapidly evolving, and Fox may yet find a way to make Scream Queens a success. But it's going to have to work extra hard to make that happen.