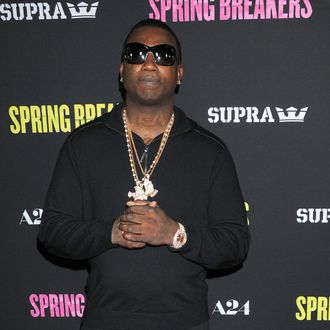 Gucci.
Photo: Paul Fenton/Corbis
Gucci Mane continues to make productive people (yes, especially including those not in jail) look like huge procrastinators, as it was announced Wednesday that the busybody rapper will release an autobiography within the next year. Gucci, who is doing time on federal gun charges, had his team (or himself talking in the third person) make the announcement via Twitter, noting, among other things, that "he has been called the most influential artist of this generation and definitely is one of the most prolific." True. Over the course of his sentence, originally slated to last till 2017, Gucci has already released numerous mixtapes, appeared as a guest on a slew of tracks, and even pushed a out new movie. How? Maybe you are thinking, Gucci Mane is so productive because he doesn't have distractions! Wrong. He does. He is the Trap God. So, how? It is a true wonder why this man is not sponsored by Nike, as he has officially become the artistic epitome of "No Excuses" and "Just Do It."
Here are some of the tweets that were used to announce the book:
Hopefully his autobiography gets meta and explains how all this came to be. No exact date has been announced yet, but pad your book-club calendars with some extra flexibility for when it drops — just in case.