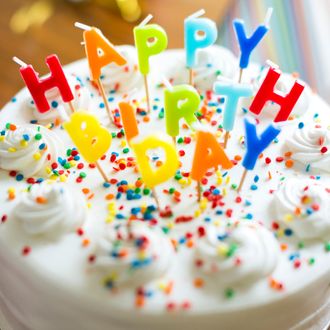 Happy Birthday!
Photo: Jessica Peterson/Getty
The two-year-old "Happy Birthday to You" class-action suit that challenged the validity of the song's stringent, decades-long artistic copyright finally received a ruling Tuesday: The six-note ditty is now officially part of the public domain and can be used for free, in any piece of art, by anyone.
Federal judge George King said the companies that have held the song's original copyright, including Warner/Chappell Music most recently, were "granted only the rights to specific piano arrangements of the music, not the actual song," according to the L.A. Times. "Because [original owners Clayton F.] Summy Co. never acquired the rights to the Happy Birthday lyrics," King wrote, "Defendants, as Summy Co.'s purported successors-in-interest, do not own a valid copyright in the Happy Birthday lyrics." Warner/Chappell, which has the option to appeal King's decision, had acquired the song's copyright for $15 million in 1988, and has since been attempting to collect royalties. The song was reportedly raking in roughly $2 million a year, thanks to paid-for TV, film, and public performances.
Good Morning to You Productions Corp. had filed the suit in 2013, after it was threatened with a $150,000 penalty for using "Happy Birthday" sans permission in a documentary about the song. The plaintiffs believed the tune, which originates from a school song composed in 1893 by two Kentucky sisters, should not have been so inaccessible. As it relates to showbiz, this result fortunately means TV and movie birthdays will now be much less creative (i.e., stuff like this won't happen anymore). Happy Birthday to that.