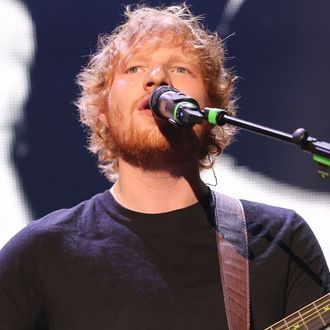 Who will fill his ginger void?
Photo: Alexander Tamargo/Getty Images
After releasing one of the biggest albums in the world in 2014, Ed Sheeran's taking a well-earned break. But not before he leaves fans with a small parting gift. Sheeran has released a new song, "Lay It All on Me," with British dance newcomers Rudimental (from their upcoming album), calling it the "final thing I'm releasing for a while." If that last bit of news comes as music to your ears, no one's more aware of your excitement than Sheeran himself: "Bad news if you like me, great news if you don't. We cater for everyone at SheeranCorp," he tweeted. Just days after his onetime hotel-room hookup, Ellie Goulding, released her non-response to his diss track, he's back with an electro-pop jam that's all about the joys of the friend zone (or "brotherhood," apparently).
Here, he quotes Randy Newman: "So if you're hurting, babe, just let your heart be free / You've got a friend in me / I'll be your shoulder anytime you need." And while Sheeran's hiatus will surely be felt throughout music (who else will bring the same white-boy charm to trap hits?), he won't be entirely absent. Your favorite ginger will still have a recurring role on FX's Bastard Executioner, so there's that.