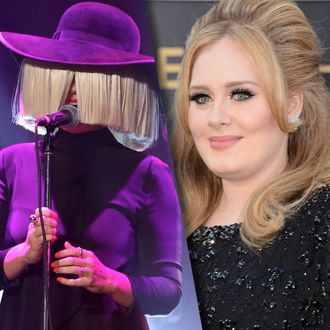 New Adele by way of Sia. Yay!
Photo: Getty Images
After a career writing hits for other people, Sia Furler took a stab at playing pop star herself with last year's 1000 Forms of Fear. However, she remained anonymous, hiding her face behind an oversize platinum-blonde wig and using 12-year-old dance prodigy Maddie Ziegler as her mini-me in a trilogy of performance pieces, starting with the "Chandelier" video. Now Sia's prepared to merge her pop-star masquerade with her songwriting past: Her next album, This Is Acting, will be a collection of songs she wrote for her peers and sung from their perspective. Its first single, "Alive," was an Adele reject — said to be for her soon-to-come next album — that Sia co-wrote with Adele and Tobias Jesso Jr. As such, Sia says it's entirely about Adele's life, so here's what we can infer about what Adele's been up to since she more or less disappeared following her 21 victory lap throughout 2011 and 2012.
It seems fame's got her down: "I saw my life in a stranger's face, and it was mine," Sia sings of how a diamond-selling album and multiple Grammys have made Adele's life feel unrecognizable. That transition to becoming arguably the biggest singer on the planet has led Adele down a dark path — "I had wanted to go to a place where all the demons go" — but Adele's a proven survivor. Enter the obligatory larger-than-life Sia chorus that makes the song hers: "I'm aliiiiiiiiiiiiiive!" And that's how you steal a hit from Adele.