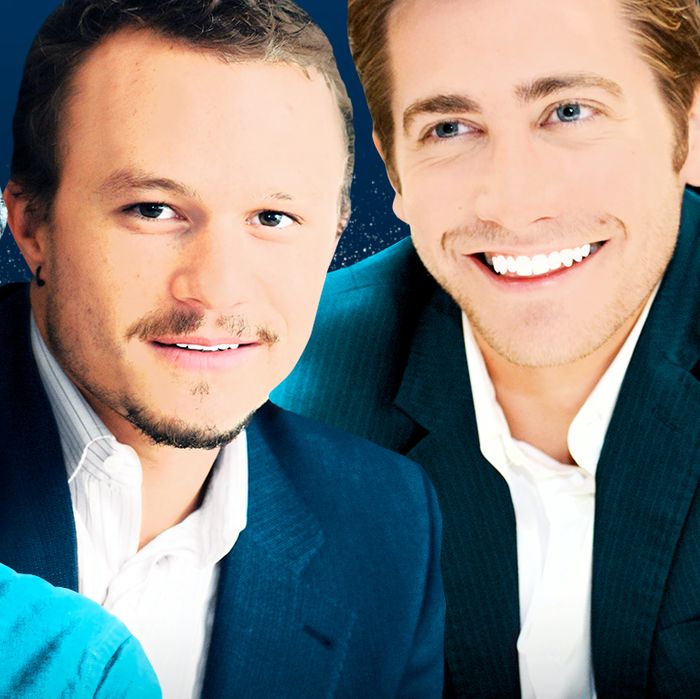 Photo: Illustration: Maya Robinson
After the kidnapping drama Room debuted to raves at the Telluride Film Festival this past weekend, Oscar handicappers started making room for Brie Larson, the talented young actress who toplines it. If the 25-year-old Larson finds herself on the campaign trail this season, she'll be rubbing slim shoulders with some of her impressive female peers: Sundance standouts like the 21-year-old Saoirse Ronan of Brooklyn and the 23-year-old Bel Powley of The Diary of a Teenage Girl have been picking up admirers all year, while there are intriguing performances still to come from the likes of 25-year-old Jennifer Lawrence in Joy and 17-year-old Elle Fanning in About Ray.
But where are their young-male counterparts?
Aside from a few very young child actors who might find themselves in contention this year, like Room's 8-year-old Jacob Tremblay and Beasts of No Nation's 14-year-old Abraham Attah, there are few male contenders in the 25-and-under set whose nominations would be perceived less as a novelty and more as confirmation of incipient stardom. Over the last decade, Hollywood has failed to grow a new crop of young leading men like Leonardo DiCaprio, Jake Gyllenhaal, and Ryan Gosling, all of whom were Oscar-nominated for 25-and-under roles that helped establish them as the standard-bearers of their generation. While it's exciting to see how many talented young actresses we now have, it's starting to feel like we're in the middle of a pretty severe young-actor drought that could have unusual implications for the industry. Just how lopsided have things gotten?
Take a look at this chart, which surveys the last decade of performers who were Oscar-nominated for a role they filmed while 25 or younger:
The men can boast only three nominees in that age bracket, and it's been a startling amount of time since Gosling got his nod for Half Nelson, a span of several years where you would expect new young leading men to emerge and begin asserting themselves. Meanwhile, 15 young women have been Oscar-nominated over the last ten years — many of whom are now considered top-tier, A-list actresses — and not a single year has gone by over the last decade without at least one nomination for a 25-and-under actress. It's clearly a boom time for acclaimed ingenues, but young men aren't holding up their end of the bargain.
What happened? I've got three theories.
The May/December Problem
As we've noted before, Hollywood seems hell-bent on pairing young women like Jennifer Lawrence, Emma Stone, and Scarlett Johansson with men who are often two or three decades older. Without a bumper crop of men their own age to play opposite, there's even less of a chance that this will change: 25-year-old Jennifer Lawrence will likely keep making films with the 40-year-old Bradley Cooper because he's got the rare career that can compare to hers. What young man could say the same?
But without the opportunity to go toe-to-toe with Lawrence in a prestige project, there are fewer ways for the new young DiCaprios and Goslings to announce themselves, and when you lack a whole generation of acclaimed young men, it permits a whole lot of age-related wonkiness to occur: Though she's only 25, Lawrence has lately been playing an awful lot of single mothers and widows, in part because the much older leading men in those movies age her up. That's why Anne Hathaway recently noted that she's losing prestige roles to 24-year-olds, a problem I guarantee you that leading men in their 30s and 40s don't have. So while it might be tempting to see the gender disparity in our chart as a good thing for women, rest assured that it will affect those talented young women in all sorts of pernicious ways, too.
The YA/CW Conundrum
The only movies that can be counted on to offer major roles to 25-and-under actors are YA adaptations and teen-targeted films, yet even these can prove to be a double-edged sword. As I assemble data for our Most Valuable Stars list each year, I'm struck by how low the E-Poll appeal scores are for actors like Robert Pattinson and Zac Efron, who rocketed to fame in franchises that established them as female-friendly matinee idols. Women continue to give these stars decent likability scores, but men remain utterly repulsed by them, and when these actors go solo and try to craft vehicles aimed at a male demographic (as Efron did with We Are Your Friends and Taylor Lautner attempted with Abduction), they inevitably get the cold shoulder. So while these teen-targeted stars can make quite an impression in magazine profiles and on Tumblr, they're likely doomed with a demographic that comprises half of all moviegoers. Watch out, Ansel Elgort!
This is something I recently brought up with Tobey Maguire, a peer of DiCaprio's who had amassed a résumé at age 25 — including stints with Ang Lee and Woody Allen, and acclaimed movies like The Cider House Rules, The Ice Storm, and Wonder Boys — that would make most of today's young actors green with envy. "If Leo and I were young now, I'd still aspire to work with great people, but those jobs don't exist anymore," Maguire said, adding that a YA franchise would seem like his only opportunity: "You can hold out for something better only for so long until you're like, 'Okay, I need a job!'" In the opinion of director Ed Zwick, who recently directed Maguire in Pawn Sacrifice, teen-targeted television shows are also to blame for the lack of young-male movie stars. "There's a poaching of young people where they're put into CW television shows, and they learn bad habits," Zwick told us. "They're given too much responsibility too quickly, and without the opportunity to work with these great directors that Tobey and Leo had."
Young American Men Don't Want to Act
Over the last few years, three leading-man roles specifically written for an under-25 performer were among the most coveted roles in Hollywood: Louis Zamperini in Unbroken, Finn in Star Wars: The Force Awakens, and Peter Parker in Marvel's upcoming rejiggering of the Spider-Man franchise. Every castable actor in the young-male demographic went out for these roles, and producers went all over the world in a months-long search to find men. And in the end, every single one of those parts went to a Brit.
I hear it all the time from directors and casting associates: You have to go overseas to find a decent young actor, because American guys just aren't cutting it anymore. One director I know just cast two young Brits to lead his high-profile American comedy and may add a third as the love interest; another director has a daring indie drama with big U.S. stars in the ensemble, but a 24-year-old Brit was the only actor considered capable enough to play the all-American lead. That trend has become especially widespread when it comes to Hollywood's big comic-book movies: Four years ago, after Henry Cavill landed Man of Steel, we wondered out loud why so many superhero roles were being outsourced — and that was before British actors like Benedict Cumberbatch, Charlie Cox, and Tom Holland were cast as Doctor Strange, Daredevil, and Spider-Man, respectively.
What's to account for that big disparity? "By the time a kid reaches 12 or 13 in America, if he's displayed any talent for them, he's steered towards athletics in high school," one top talent agent told Vulture back when Cavill was cast. "Kids who want to do theater, or study acting, well, they're immediately labeled 'wimps,' or worse, 'fags.' Whereas in the U.K., that's absolutely not the case: It's not considered weird to act and play soccer over there, or to sing and play rugby. By the time some of the better-looking, more rugged American guys who've been, say, modeling decide maybe they're interested in acting, it's too late: The U.K. guys have had so much more and so much better training, it's not even a fair fight. Our guys don't stand a chance."
While it's still possible to mint new male movie stars in America, they now tend to break through in their 30s, and many of them — like Channing Tatum and Chris Pratt — had no real interest in acting before they seemingly stumbled into their careers. (Tatum started as a model and dancer, while Pratt was an aimless Bubba Gump waiter discovered and cast by actress Rae Dawn Chong.) Compare those trajectories to young women like Jennifer Lawrence, Shailene Woodley, and Brie Larson — who've been dedicated to the craft all their lives — and you'll find the real disparity: The girls want it badly and always have, the boys kinda don't, and the Oscar trend lines reflect that lack of passion. When Anne Hathaway won her Academy Award, she called it a dream come true. But if you think the Oscars are going to entice a new generation of indifferent young men to aspire to win them anytime soon, well, you may have to keep dreaming.
Correction: This article originally stated that 17 young actresses have received an Oscar nomination during the past decade. The number is actually 15. The post has been updated accordingly.