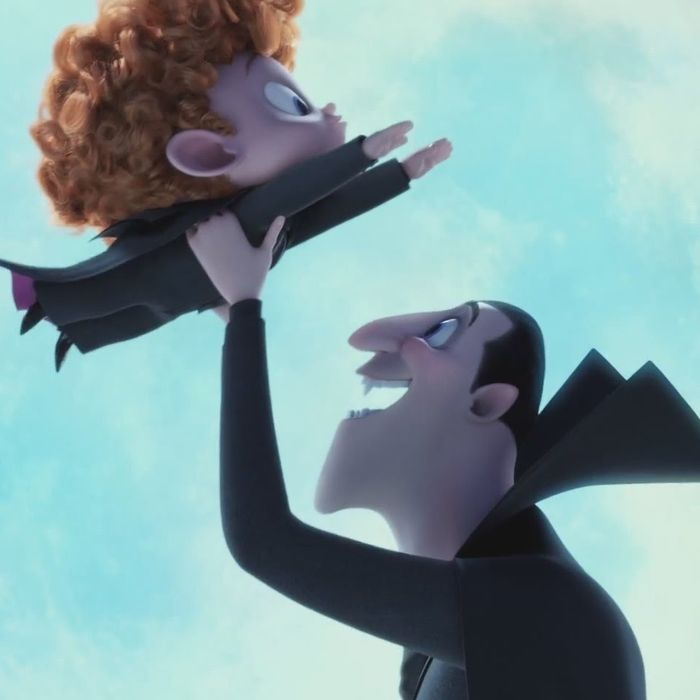 Dennis (Asher Blinkoff) and Dracula (Adam Sandler) with Wayne (Steve Buscemi) and Frank (Kevin James) looking on in Columbia Pictures and Sony Pictures Animations' HOTEL TRANSYLVANIA 2.
When the first Hotel Transylvania came out three years ago, it was a fun, fast, mindless trifle, a chance to indulge in the monster-normative, up-is-down humor of movies like Monsters, Inc., only this time the creatures on-screen were classic ones like Dracula, Frankenstein, and the Wolfman. Looking back on it, though, there was clearly something personal about the film, too. Dracula (Adam Sandler), the film's single-dad vampire-hotelier protagonist, created the titular hotel and its grounds as a safe space for all his paranormal pals, and also to protect his young daughter, Mavis (Selena Gomez), from the cruelties of the human world. The paternal anxiety was a welcome extension of the middle-aged angst evidenced in Sandler's recent (and often dreadful) live-action films.
That angst comes roaring back in Hotel Transylvania 2, which at times plays like an animated (and waaay better) variation on the Grown Ups movies. This time, Drac is fixated on his new grandson, Dennis, born to Mavis and her human husband, Johnny (Andy Samberg); he's even hilariously baby-proofed his murderous-supernatural-creature-filled hotel. However, Dennis is at least part-human, and by the time he turns 5, his vampire teeth haven't come in — nor, for that matter, have any of his other vampire powers. Meanwhile, Mavis has started to wonder whether she should leave the sheltered world of the hotel and move her family to the more kid-friendly environs of suburban California.
When his daughter and Johnny go off to visit her in-laws, Drac, like any good milestone-obsessed parent, conjures up a plan to take Dennis out and teach him the ropes, bringing along his middle-aged monster pals — Frankenstein (Kevin James, duh), Murray the Mummy (Keegan-Michael Key), Wayne the Werewolf (Steve Buscemi), and Griffin the Invisible Man (David Spade) — to join in on the fun. But it's been a while since any of them has gone carousing, and they've all lost a step or two. ("We don't need to kill anymore! We have Pop Tarts!") It turns out the rest of the world has moved on as well: The dark forest where Drac used to do his haunting has now become a packed tourist attraction; the camp where vampires used to learn how to turn into bats and suck blood has now become a kiddie-friendly place to play badminton, sing campfire songs about friendship, and hop off a tiny playground slide with nets instead of a giant, rickety, deadly tower.
Sandler's live-action career has stumbled somewhat of late, not because his jokes have gotten stale — they were never all that original — but because a kind of glacial ennui has settled over his work, replacing the restless, angry, self-loathing vitality of his earlier films. But here, in animated form, he springs back to life. Yes, every joke in the film is low-hanging fruit, but not a single one is left unpicked. (Dennis gets a toy called "My First Guillotine" as a birthday present; Drac takes exception to a Cookie Monster–like TV character called Cakey the Cake Monster; Bigfoot makes a great soccer goalie; urged to use Bluetooth, Drac calls over a giant Blue Tooth; the Invisible Man pretends to have an invisible girlfriend.) It's not exactly inventive, but it's filled to bursting with sight gags and puns. And perhaps most important, director Genndy Tartakovsky keeps things moving at an even faster clip than the first film, restoring the verve that once made Sandler's buffoonery interesting. Hotel Transylvania 2 is minor, to be sure, but given the comedian's recent work, it still counts as a pleasant surprise.