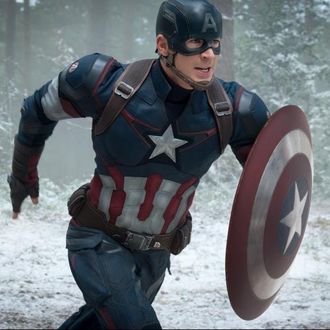 Captain America in Avengers: Age of Ultron.
Photo: Marvel Studios
As Marvel continues its quest to stuff everyone who's ever so much as glanced at a SAG card into next year's Captain America: Civil War — except Mark Ruffalo, sorry, Mark Ruffalo — THR reports that the film's growing cast was the impetus for a behind-the-scenes rift that culminated in a corporate reshuffling last month that put Marvel Studios under the aegis of Disney, rather than Marvel's own executive board. The move was supposedly to get Marvel studios head Kevin Feige out from under the hands of "famously frugal" Marvel Entertainment CEO Ike Perlmutter, who had attempted to slow down Civil War's ever-increasing budget. This is perhaps bad news for anyone who thought Marvel films were already too jam-packed with cross-promotional character appearances — but it's great news for the MCU's middle class of actors, who, under Perlmutter, were held to cheap contracts that didn't pay them any merchandising royalties. You can start renovating your kitchen now, Marisa Tomei.