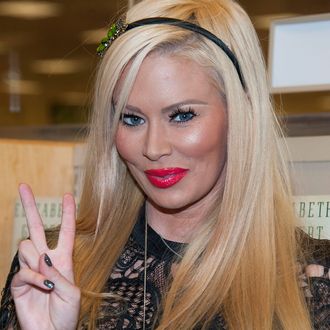 Jenna Jameson.
Photo: Valerie Macon/2013 Getty Images
Big-time TV shows and movies are, more and more, making it standard procedure to cast porn stars to fulfill the duties of intimate body doubles, seedy characters, and sexy cameos, L.A. Weekly notes in a new Porn Valley-meets-Tinseltown report. Titles ranging from Game of Thrones and Ray Donovan to Sons of Anarchy and The Canyons, have welcomed the likes of Sibel Kekilli, Tori Black, Jenna Jameson, and James Deen, among many others, to the mainstream Hollywood stage because "many actors find nude and simulated-sex scenes morally objectionable and/or feel they hinder mainstream aspirations," according to the Weekly. Credit is due here to adult casting expert Howard Levine and his ilk, porn industry-ites who moonlight as L.A. and New York porntractors and who have closed the chasm that separates traditional acting from pornographic acting.
"Working with adult performers is easier, for nudity aspects, because they have no inhibitions about getting naked in front of the camera," Levine told the Weekly. "Whereas if you call Central Casting and go, 'I need 20 girls to be on a porn set, semi-naked,' it's like a really hard order to fill." Levine got his big break thanks to his involvement with a clean-and-sober motorbike club, where a fellow club member was reportedly doing extras casting for Anarchy. "Howard was very helpful bringing in the right talent. And often in SOA, sex and violence were interwoven in scenes. We needed players who were comfortable enough with the nudity to be able to react to someone's head getting blown off," Anarchy's Kurt Sutter told the Weekly. "We found that adult talent was the best choice."
The common thread, as others interviewed in the article also underlined, is that porn stars are generally better to work with in more sexually charged scenes and roles because of comfort and efficiency reasons. The downside to this, of course, is that porn producers and actors who have broader aspirations fear that those affiliated with the adult industry will only be recruited for roles and jobs of that nature. Kekilli's recurring role as Shae, in GoT, is a good exception to such a worry, but it's also a prime indicator that the porn-to-nonporn switch is an inexact science — really, a near Wild West–type experiment where the playing fields are leveling in industries both known for pushing stars to sacrifice everything for a smidgen of success. You can read the full report, which also discusses how lucrative (or not) a job like Levine's is and how Hollywood might overtake porn, here.