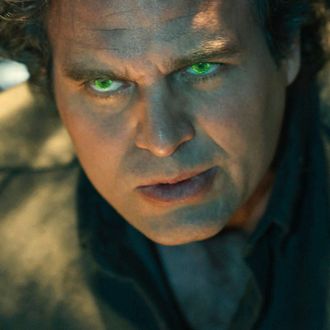 When a melancholy Hulk hopped in a quinjet near the end of Avengers: Age of Ultron, only he knew his destination — but it looks like he won't be touching down in Captain America: Civil War. The megahit franchise installment will feature basically every other Marvel Cinematic Universe superperson, but in an interview with Italian film site badtaste.it, Hulk actor Mark Ruffalo appears to confirm that the Jade Giant will be sitting it out … because Marvel might have bigger plans for him.
Here's the Ruff's quote, translated from the Italian in the source article by an actual Italian-speaking human being:
I believed that [Hulk] would be in the film, but at the end, it was evident that they needed to reveal that the Hulk did something very significant, and that Marvel wanted to use this in a more upfront [manner]. My character was inserted into the script, but it was later removed. Who knows, maybe Hulk will never return. However, [Marvel] want to keep the revelation of what happened a secret, because it is something truly significant.
So! We're dealing with a serious language barrier here, but it seems like the bigwigs at Marvel Studios waffled on whether Hulk should stomp into the internecine superhero conflict, and ultimately backed off.
There's no Hulk flick in Marvel's current slate, which they've planned out all the way to 2019's Inhumans. But, hey, maybe he landed in Wakanda and 2018's Black Panther will turn into a buddy comedy in which King T'Challa and sad ol' Bruce gas up the quinjet and go road-tripping.