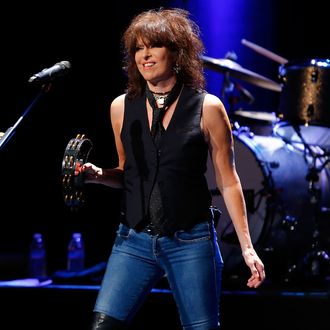 Chrissie Hynde.
Photo: Joe Scarnici/WireImage
In the lead-up to her first memoir, Pretenders frontwoman Chrissie Hynde has caught some flak for her comments about rape, which she's since stood by. Now, speaking to ABC News, she clarifies that anything she has to say about sexual assault speaks only to her experiences: "I told my story the way I saw it, and I'm not here to advise anyone, validate myself, or justify anything. I say I regret a lot of things I did … Suddenly I'm defending rape." She adds that she wasn't suggesting that women who dress "provocatively" are asking for rape, but rather that they're asking to be asked, "Why do you dress provocatively?" So that clears that up.
And, like Grace Jones, she has some finger-wagging for today's female pop stars, specifically about how they present themselves in their music videos: "To me it's pornographic, yeah, when you're in your underwear and you're bumping and grinding and singing your song. I'm not trying to criticize other women. I'm saying if you're selling sex then don't say you're a feminist on behalf of music. Because I think little girls get very confused by that." Hynde doesn't name names, but let's just say the last time another female rock star tried to offer the next generation her unsolicited advice on how to be a feminist, it didn't go over so well.