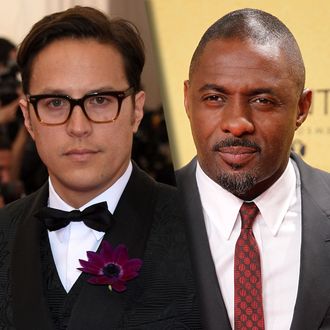 Mmm.
Photo: Franziska Krug/Larry Busacca/German Select/Getty Images
Idris Elba and Cary Fukunaga, the very handsome men behind Neflix's upcoming Beasts of No Nation, are on the cover of Variety together this month, sharing slightly less physical contact than fans may have wanted. But inside the issue, they share something else: harrowing tales of almost dying during the film's shoot in Ghana.
For Elba, his brush with death came when he absentmindedly leaned against the wrong tree, and nearly plummeted off a cliff. "I remember slipping and catching onto this big branch that was sticking up, and I literally was like, 'Whoa!'" he tells the mag. "It was a moment where I was like, 'This is the real deal.'"
Not to be outdone, Fukunaga chose a more subtle path toward meeting his maker. Namely, malaria: "It's like someone gave you a sleeping pill, along with a pounding headache and a hot-and-cold fever." He also lost 20 pounds during filming, some of which he attributes to a parasite he only just discovered, and once nearly stepped on a poisonous snake. Oh, and his camera operator got hurt, his extras were thrown in jail, the film went over budget, and he had to resort to a voice-over to fill in the gaps of scenes he couldn't shoot.
But everything's okay now, because Beasts was bought by Netflix and will be entered into this year's awards-show race, where it is expected to compete with The Revenant for the coveted Most Harrowing Shoot trophy.