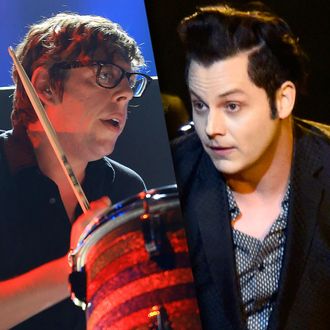 This rock beef is still going strong.
The beef between Jack White and the Black Keys is the gift that never stops giving. Last night, according to Keys drummer Patrick Carney, relations between the two rockers may have finally gotten physical. But in case you haven't kept up on a favorite of Jack White's many tired feuds, here's a brief recap: Back in 2013, in emails leaked during his divorce proceedings, White complained about Keys front man Dan Auerbach (better known to White as "that asshole") for copying his sound. He repeated those same accusations in a 2014 Rolling Stone cover story. While the Keys have more or less shrugged off the whole thing, Carney now says in a series of tweets that the Tidal co-owner's "bullying" isn't so easy to ignore. He claims White tried to instigate a bar fight with him in New York City last night:
Carney, it should be noted, has used Twitter in the past to troll his nemeses, and this could all very well turn out to be a prank of that sort. In a statement to Vulture, White has offered his (slightly different) version of the story: "Nobody tried to fight you, Patrick. Nobody touched you or 'bullied' you. You were asked a question you couldn't answer so you walked away. So quit whining to the Internet and speak face to face like a human being. End of story."
Carney tells Vulture, "I got into music because of people like him. The bully assholes who made me feel like nothing. Music was a collaborative and noncompetitive thing. So, to get macho bullshit from within the musical community makes me angry and sad." You know who really has a reason to want to fight these two? All the bass players they knew growing up.
Update: It appears we have a truce.