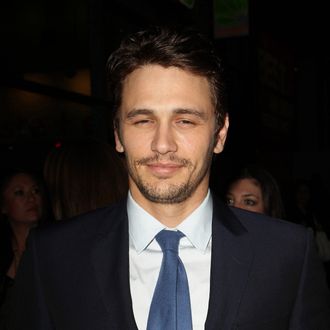 Photo: KevanBrooks/AdMedia/Splash News/Corbis
James Franco has done some weird stuff in his life, from putting together a zealous scrapbook ode to Lana Del Rey and writing a love letter to McDonald's, as well as his various projects of slightly more erudite appeal — his genuinely good turn in Of Mice and Men and his genuinely mediocre book of short stories, etc. Now Franco has reached peak Franco with a new column on Indiewire in which he confers with his "reverse self," Semaj, on new movies. Franco has done the split-personality thing before, having conducted an interview between his "gay self'" and "straight self" earlier this year. Describing the new movie column (in third person), Franco says:
This is a column where James Franco talks to his reverse self, Semaj, about new films. Rather than a conventional review, it is a place where James and Semaj can muse about ideas that the films provoke. James loves going to the movies and talking about them, but a one-sided take on a movie, in print, might be misconstrued as a review. As someone in the industry it could be detrimental to James's career if he were to review his peers, because unlike the book industry — where writers review other writer's books — the film industry is highly collaborative, and a bad review of a peer could create problems. So, assume that James (and Semaj) love all these films. What they're interested in talking about is all the ways the films inspire them, and make them think. James is me, and Semaj is the other side of me.
For their first column, Franco and Semaj discuss the new Austrian horror film Goodnight Mommy, in which identical twins engage in psychological warfare with their mother. The weirdest thing is that when the novelty of the split-personality dialogue wears off, the remaining writing is actually engaging and intelligent. Franco has a keep critical eye for art, even if his more scatological projects belie that.