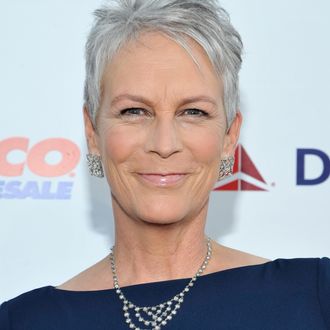 Jamie Lee Curtis.
Photo: John Sciulli/2014 Getty Images
For Jamie Lee Curtis, you could say iconic scream scenes run in the family: The pop-culture Scream Queen, who first garnered attention with her Halloween howls, likely got it from her mother, Janet Leigh, who laid the blueprint for famous screams everywhere roughly two decades prior when she filmed Psycho's scarring shower shriek. In a fitting nod to the latter, Curtis revealed Tuesday that Ryan Murphy's Scream Queens recreated her mom's horrific black-and-white moment, tweeting a sneak peek of her in her best Psycho Leigh. In Queens, Curtis plays the dean of a college campus with a red-masked killer problem. "She's everything you would want her to be," Murphy told Variety, of Curtis in her role. "She gets to be funny, and she also gets to be unexpectedly sexy."
Here's the pic, in which Curtis's character is a dead ringer for Marion Crane — like mother, like daughter:
Get ready to scream your head off, too. The 15-episode horror-comedy debuts September 22 on Fox.