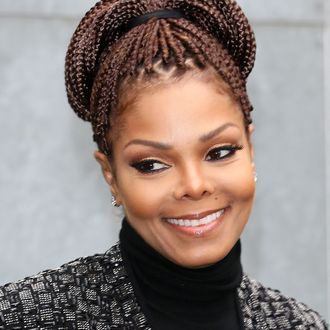 Janet Jackson.
Photo: Vittorio Zunino Celotto/2013 Getty Images
Janet Jackson unveiled the track list, release date, and titular single from her latest album, Unbreakable, on Thursday. The song (listen below) plays like a retro-sounding, long-overdue love letter. To whom? Well, it's hard to listen to the outro and not think she's at least slightly winking at her fans: "Hello / It's been a while / Lots to talk about / I'm glad you're still here / I hope you enjoy." But Unbreakable, song and album, like much of Janet's prior material, will work on various levels. "Themes [of Unbreakable] will include, Janet's views on where we stand today as individuals and as the inter-related elements of a planet. Some of these relate to her convictions passionately expressed in Rhythm Nation 1814, including the need to bring things out in the open and to have a dialogue," notes a statement on her website. "The album also will mark the first time Janet Jackson has opened up about her brother Michael and with reflections concerning her youth." The record, Janet's first studio effort in seven years, drops October 2. Glad to have you back, Miss J.
Here's "Unbreakable":
And here's the track list (J Cole! Missy Elliott!):
Unbreakable
Burnitup! (feat. Missy Elliott)
Dammn Baby
The Great Forever
Shoulda Known Better
After You Fall
Broken Hearts Heal
Night
No Sleeep (feat. J Cole)
Dream Maker / Euphoria
2 B Loved
Take Me Away
Promise
Lessons Learned
Black Eagle
Well Traveled
Gon B Alright
You can preorder it here.