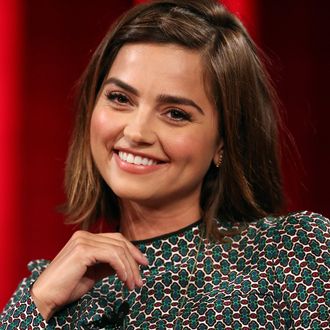 Jenna-Louise Coleman.
Photo: Adam Berry/Getty Images
In a sentence written by British Mad Libs, The Mirror reports that Doctor Who actress Jenna-Louise Coleman, rumored to be dating Prince Harry, is leaving the show after this year's Christmas special in order to play Queen Victoria in an ITV mini-series. Coleman has served as a companion on the show since 2013; her character Clara Oswalt was introduced battling Daleks alongside Matt Smith's Doctor, and stayed on the show after he regenerated into Peter Capaldi. According to the report, Coleman will play Victoria (her maybe-boyfriend's great-great-great-great grandmother) early in her reign before handing off the role to an older actress. It's worth noting, however, that these stories have not been confirmed; ITV apparently wants to keep its Victorias secret.