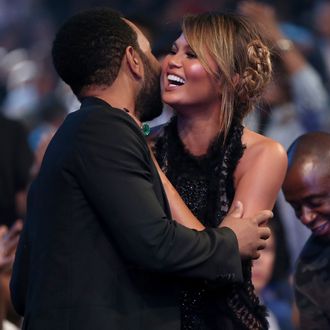 Average individuals.
Photo: Christopher Polk/MTV1415/Getty Images
What do you get the couple who has everything? A pilot deal at ABC! John Legend and Chrissy Teigen are making a sitcom called Ordinary People together, and according to Deadline, it's just landed a put-pilot deal at ABC. Despite the title, it's neither an adaptation of Legend's hit song from 2004 nor one of the Oscar-winning 1980 film. Instead, it'll be about two typical humans — based on Legend and Teigen, though they won't appear — "an interracial couple with very different personalities and big ambitions." These standard human beings will be involved in the music industry — well, at least they will until they start developing TV shows.