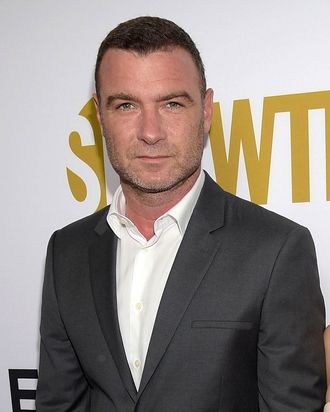 Photo: Jason Kempin/Getty Images
At Showtime's Emmy Eve party presented by Ketel One Vodka at West Hollywood's Sunset Tower Hotel Saturday night, Emmy nominee Liev Schreiber shared his pick to win an Emmy for Outstanding Lead Actor in a Drama Series. "Jon Hamm is an extraordinary actor. And he's been nominated how many times now? I think he should win. I do. He's a very nice guy. I like him. He's a nice guy, and I think he should win." The conversation is notable when you realize Hamm's competition for Outstanding Lead Actor in a Drama includes, that's right, Schreiber himself, for his role in Ray Donovan. Downton Abbey creator Julian Fellowes — who is up against Mad Men in the Outstanding Drama Series category tonight — expressed a similar sentiment Saturday at BAFTA's Los Angeles TV Tea: "This is going to be Mad Men's year because it's been a fabulous series. I think it demands recognition. And if they win everything, I don't think that's so terrible." Hear that, TV Academy? Give them all the Emmys.
Carita Rizzo contributed reporting.