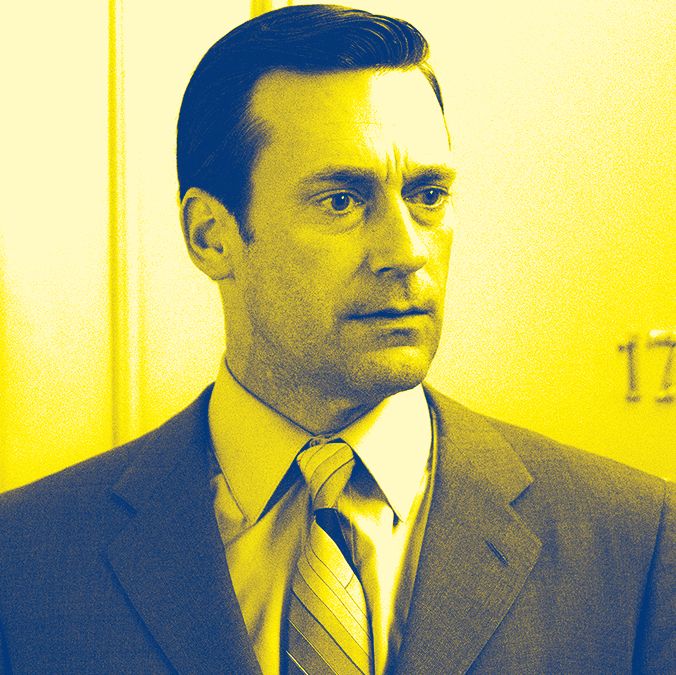 Jon Hamm has been nominated for 16 Emmys. So far, he has won zero Emmys. Light your candles, cross your fingers, perform your ablutions, restrict your diets, chant your incantations: He has two more chances on Sunday.
Hamm's thus-far unfruitful Emmy run includes nominations in three categories: lead actor in a drama (for Mad Men, duh), guest actor in a comedy (twice for 30 Rock and once for Unbreakable Kimmy Schmidt), and outstanding drama series, thanks to his role as a producer on MM. Hamm didn't earn that producer credit until season five, though, so even though Mad Men won best-drama Emmys in its first four seasons, none of those count toward Hamm's personal total.
It's not that Hamm has been robbed all these times. As a guest actor in a comedy, three of his four losses make sense. In 2009, he lost to Justin Timberlake's SNL hosting, which, fair enough. Timberlake is a terrific SNL host. In 2011, Hamm lost to Jimmy Fallon, also for a stint hosting SNL. Again, that's a fair fight. This past weekend, Hamm's work on Kimmy Schmidt lost out to Bradley Whitford's work on Transparent — another reasonable loss. The only genuine bummer is 2010, when he lost to Neil Patrick Harris on Glee — a slight, for sure, but the actual snub that year was that Mike O'Malley didn't win for Glee instead.
Mad Men won best drama its first four seasons — when, in fairness, the competition was a little easier. Is season one of Mad Men better than season four of Lost? (That's the one with the freighter.) Oh, God, absolutely. Breaking Bad and The Good Wife couldn't break MM's streak; it took Homeland's riveting first season to do so. Then came Breaking Bad's final two seasons, also both terrific, also both as deserving of wins as MM. That's the weird thing about giving awards for art: It's very stupid, and so arbitrary it borders on meaningless, and yet it is also sort of fun, plus it's worthwhile occasionally to consider the fundamental attributes of a medium.
The real measure for Hamm, though, is of course the Lead Actor in a Drama category, where he has gone 0-7 so far. He lost to Bryan Cranston four times. There's no shame in that: Cranston's performance as Walter White is as good as it gets, and Breaking Bad was an Emmy darling, notching wins not just for Cranston, but also for Aaron Paul and for Anna Gunn. (And for the show itself and for writing. BB: A notably good show!) Then in 2011, Cranston wasn't eligible — but Kyle Chandler won for Friday Night Lights, a deserving though maybe more cumulative win than anything else. That was the year Hamm submitted "The Suitcase," and yet he still lost. Chandler's winning episode was the series finale of FNL. Texas forever, or at least just this once. In 2012, Damian Lewis won for Homeland, which had a terrific first Emmys and frankly a great first season. That year Hamm submitted "The Other Woman," an amazing episode but a little more Joan's than Don's.
The most egregious Hamm loss came in 2013, when Jeff Daniels won for The Newsroom. Not that Daniels performance isn't fine — it is — but his submitted episode, the series pilot, does not ask a tremendous amount of him. Hamm's submitted episode was "In Care Of," the sixth-season finale, in which Don breaks down in a Hershey's meeting, among other places. This:
Lost to this:
Last year, Hamm lost to Cranston for Breaking Bad's last hurrah ("Ozymandias" in particular).
And that brings us to 2015. Chandler is nominated again, this time for Bloodline. Daniels is also nominated again, still for Newsroom. Cranston's out, but Bob Odenkirk is in for Better Call Saul. Liev Schreiber is nominated for Ray Donovan, and Kevin Spacey has his third nod for House of Cards. It seems like this would be Hamm's year!
Except so far Emmys voters have not responded well to Sad Don Draper. At all.
Hamm lost for "The Wheel" — in which he delivered the show's most famous monologue. He lost for "The Mountain King," where a dejected Don admits to Anna Draper that he's "ruined everything." He lost for "The Gypsy and the Hobo," where Don's marriage officially shatters when he tearfully finally confesses to Betty his original identity. "The Suitcase" was covered above, but it's peak Sad Don. "The Other Woman" finds Don angrily throwing money at Peggy (literally) and then, wounded, kissing her hand when she quits. "In Care Of" is Don at his most decrepit, ruining not just his circumstances but several other people's.
Last year's "The Strategy" was less sad, but still hauntingly poignant, particularly the scene of Don and Peggy slow dancing while coming up with Burger Chef ideas. This year, Hamm submitted the series finale "Person to Person," which finds Don broken and shaking and seemingly on the brink of suicide before a cathartic, sobbing embrace with a stranger in a woo-woo group therapy session.
It's time for Jon Hamm to win an Emmy, and not just as a producer but for his significant work as the lead of one of TV's greatest shows. But "Person to Person" is Sad Don, Bad Don, Lost Don, and Mean Don — a greatest hits album from a band Emmy voters apparently don't like. Maybe Hamm could just buy them all a Coke?