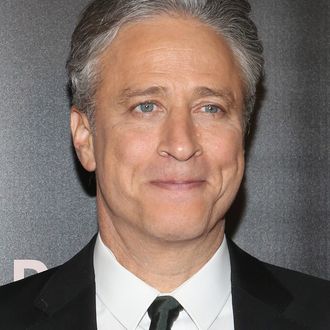 Jon Stewart.
Photo: Robin Marchant/2014 Getty Images
When he's not still winning Emmys or appearing at pro-wrestling events, the supposedly retired Jon Stewart can usually be found dancing in the comfort of his own home to "Started From the Bottom." WWE tweeted an extra-special instance of this Wednesday, when Stewart partook in the Just Keep Dancing challenge to raise awareness for pediatric cancer. (The dance movement you'll see below was started earlier this year by Ellen, after she interviewed a 6-year-old cancer fighter who used dance to cope with chemo.)
Did we know Stewart was such a big fan of classic Drake? Good work, Jon (and fam):
To learn more about #JustKeepDancing, head here.