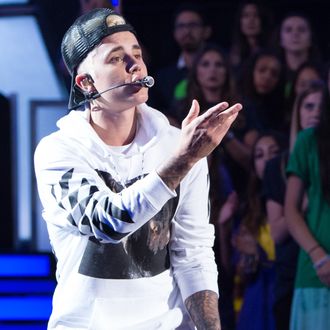 Biebs.
Photo: Handout/ABC
Justin Bieber trekked to Las Vegas this weekend to support Floyd Mayweather, have fun with Diplo, and continue mounting his pop-culture comeback. Since he's been on a roll lately, with a stellar return to the VMA stage, as well as a No. 1 hit, he decided it was also a good weekend to wear a big hat and shotgun a beer. In a video uploaded to his Instagram account, Bieber can be seen going head-to-head with a friend and ultimately giving a mediocre performance. As the 21-year-old notes in the caption, though, yes, he lost, but no, he never went to college. So, there's that.
Nevertheless, this is what it looks like when the Biebs (and/or Woody from Toy Story) shotguns a beer:
He's growing up — one way or another.