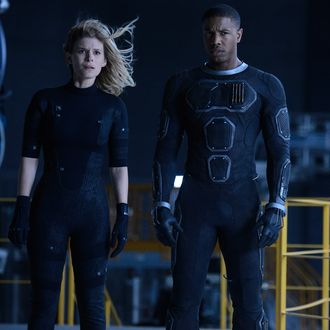 Kate Mara and Michael B. Jordan in The Fantastic Four.
Photo: Ben Rothstein/Marvel & Subs. TM and Twentieth Century Fox
In an interview with the (British) Times, Kate Mara admits that, more than a month after its release, she still has not yet seen the finished version of Fantastic Four. In Mara's words, she's feeling "a little bit gun-shy" after the project was greeted by a parade of terrible buzz, worse reviews, and meager box-office grosses. However, despite reports that she was mistreated by director Josh Trank on set, Mara says diplomatically that the actual experience of filming the movie wasn't the torturous ordeal it's been made out to be: "It was a tricky shoot, but you know … When you know when you're shooting it that a film isn't going to be what you want it to be? That was not the case at all." Whether or not Mara was blinking in Morse code during this portion of the interview is unknown.
The actress did admit she is "bummed" by one thing: "We have no idea if we'll ever make another one." The question is currently up in the air: The Fantastic Four sequel was green-lit long before the first movie came out, and it has yet to be officially canceled. Writer Simon Kinberg tells MTV he's currently "focused" on the process of "figuring out what that movie would be," but for her part, Mara tells the network it's "unlikely" the movie will happen. But, she says, she would jump at the chance "to play Sue Storm in a movie that everybody loves." Shade!