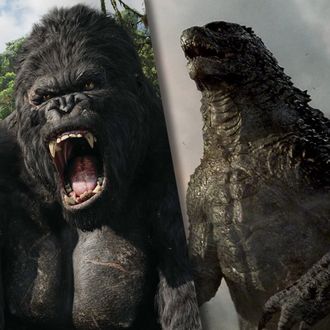 From left: King Kong, Godzilla.
Photo: Courtesy of Warner Bros. Picture
Deadline reports that King Kong and Godzilla will likely square off again on the big screen, thanks to an industry move that's creating something à la the MCU for behemoths. Legendary Pictures is making moves for its Kong: Skull Island prequel to go from Universal to Warner Bros., effectively placing King Kong in the same production stable as Godzilla. Deadline explains this is so a monster mash-up movie, essentially a remake of 1962's King Kong vs. Godzilla, can conveniently come after the forthcoming Godzilla sequel, and so the two monsters' universes can continue to cross over in the future. (Variety's sources note this deal has not been finalized yet, but that's the plan because history tends to repeat itself.) Let the which-is-the-superior-monster arguments begin. Skull Island bows March 10, 2017.