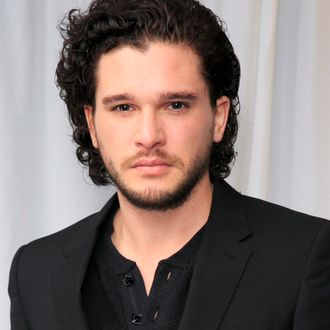 Kit Harington.
Photo: John Phillips/2015 Getty Images
(Warning: If you're not caught up through season five of Game of Thrones, spoilers follow.)
Enough with Hairington watch, the man has spoken. In a recent interview with Belgian weekly Humo, Kit Harington confirmed, at long last, that yes, you will likely see Jon Snow on the next season of Game of Thrones. He just didn't elaborate on his character's condition. The original interview, of which a portion was translated into English by a Redditor, was pegged to Harington's Testament of Youth, but of course Game of Thrones and Jon Snow's painfully cryptic last scene came up, because how can they not? There has been no dearth of speculation, thanks to alleged set and flow pics.
Here's the relevant exchange:

Harington: I often felt frustrated as well. I had to pass on amazing parts because I was attached to Game of Thrones. So the show is like a double-edged sword to me: I owe a lot to it, but at the same time it has almost completely drained me. Oh well, I try not to think about it too much. The important thing is that I now know exactly how long I am still under contract, and in the meantime —


Humo: How many more seasons would that be?

Harington: Nice try [laughs]. I can't talk about that. Let's just say that Game of Thrones will remain a part of my life for a while, I'll probably be in my thirties when it's over. One thing's for sure: The day I'm no longer on Thrones is the day I'll bury myself in movie projects [laughs].
Of course, as has been pointed out in other Snow-Harington theories, such an admission could be referring to a contract with little-to-no action, or flashback-slash-similarly-spiritual appearances only. Nevertheless, the 28-year-old will definitely be around, in some way — fans are just craving to know why and how (Will he be a White Walker? What about a direwolf? Or how about Lazarus?). You can read the whole interview here, and can view the original Reddit thread here. Game of Thrones is projected to return next spring, which means you'll have plenty of time — not to mention all of winter — to overanalyze everything.