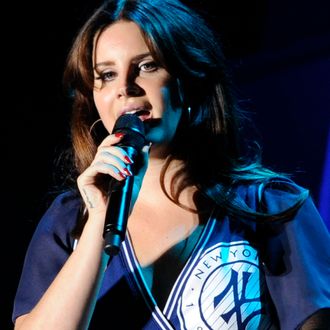 What would we do without her?
Photo: C Flanigan/WireImages
Lana Del Rey sat down with No. 1 stan James Franco (remember, he wrote an entire book fantasizing about her) for her new cover story in V magazine. In it, the two got to talking about her controversial comments on feminism. Last year, the singer told The Fader, "For me, the issue of feminism is just not an interesting concept. I'm more interested in, you know, SpaceX and Tesla, what's going to happen with our intergalactic possibilities."
True to her word, she started a hotline to promote her upcoming album on which you can listen to an entire lecture on the origins of the universe and an Elon Musk TED Talk. But to respond to all that feminist policing she's since incurred, Lana now has this to say about her personal beliefs on the matter:
"The luxury we have as a younger generation is being able to figure out where we want to go from here, which is why I've said things like, 'I don't focus on feminism, I focus on the future.' It's not to say that there's not more to do in that area. I've gotten to witness through history the evolution of so many movements and now I'm standing at the forefront of new technological movements. I'm not undermining other issues. But I feel like that's obvious, like I shouldn't even have to bring that up."
Lana Del Rey: Not the feminist hero we need, but the one we (probably don't) deserve.