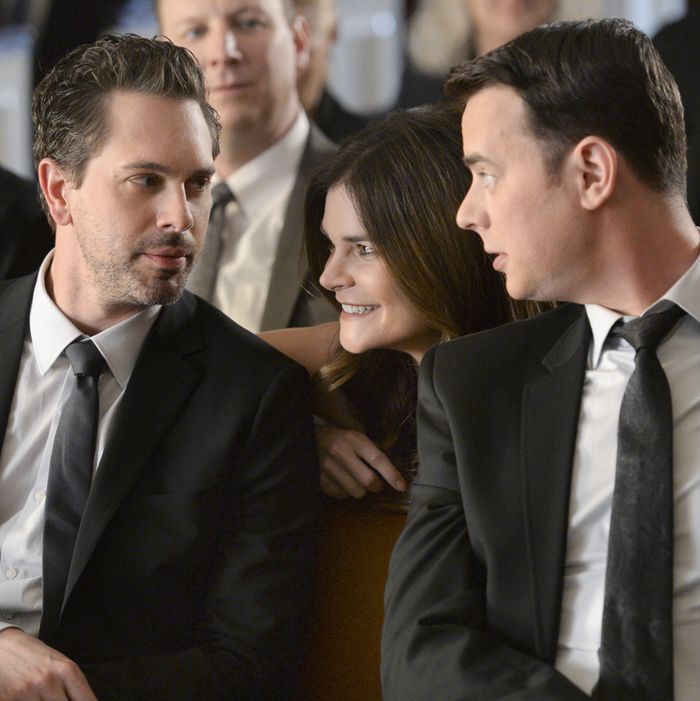 From left: Thomas Sadoski as Matt, Betsy Brandt as Heather, and Colin Hanks as Greg.
Photo: Darren Michaels/CBS
All human behavior is garbage, attempting to form familial bonds is like making a cotton-candy shelter during a hurricane, romance is dead, men are idiots, women are perpetually wounded, aging is a curse, youth is a curse, parenting is terrible, being parented is terrible, why am I alive, Life in Pieces is so depressing, let us all pray for darkness. CBS comedies, folks.
The single-camera comedy follows different members of the Short family: Dianne Wiest and James Brolin* as the grandparents; and Thomas Sadoski, Colin Hanks, and Betsy Brandt as the adult children. Sadoski spends the first episode on a first date, Hanks spends it in the immediate aftermath of the birth of his first child, Brandt spends it taking her oldest kid on a college visit, and Brolin spends it staging a mock-funeral for himself instead of a birthday party. Brolin's John reminds everyone in the excruciatingly on-the-nose closing that life is made up of moments, and we carry them with us as precious memories. Everyone looks on earnestly, even getting choked up as he explains what memories are. They're these things you can look back on, see.
I don't know what tender recollections anyone is supposed to have, though, for the 19 minutes and 40 seconds that precede this monologue, because everyone seemed super-miserable the whole time. Sadoski's Matt is on a promising first date with a co-worker — who lives with her ex-fiancé (Jordan Peele, squandered), and also Matt lives with his parents, and garsh dernit, where are we gonna find space to bone? Hanks's Greg and his wife Jen (Zoe Lister-Jones) walk us through such novel comic concepts as the difficulty of assembling cribs and how gross and terrible vaginas look the day after giving birth. Brandt's Heather and her husband Tim (Dan Bakkedahl) are maybe the sitcommiest of the bunch, since she's so controlling and he's always saying the wrong thing, and oh, boy, one of their children is like a sage little poet even though she is a kid, and what are they gonna do with her. Each vignette includes shouting, exasperation, accidental hurt feelings, and a shred of contempt. There's a nonzero amount of throwing up.
Of course not all families are 24-7 love-ins, and life is not always easy, even for the visibly wealthy, rich, white, cis, straight, able-bodied, employed people raised in luxurious two-parent households, to which they can return. But if the setup for a show is going to be "spend time with these mostly loathsome people," they'd better be doing something very interesting, very sexy, or very funny. And no one on Life in Pieces is doing that. The show feels brittle and impersonal.
CBS has had tremendous success with its multi-camera comedies, but the network has never launched a successful single-camera comedy. It's trying again this season, with this and Angel From Hell, which premieres in November. Maybe that show will fare better? For now, Pieces just doesn't come together.
*An earlier version of this post misidentified James Brolin.