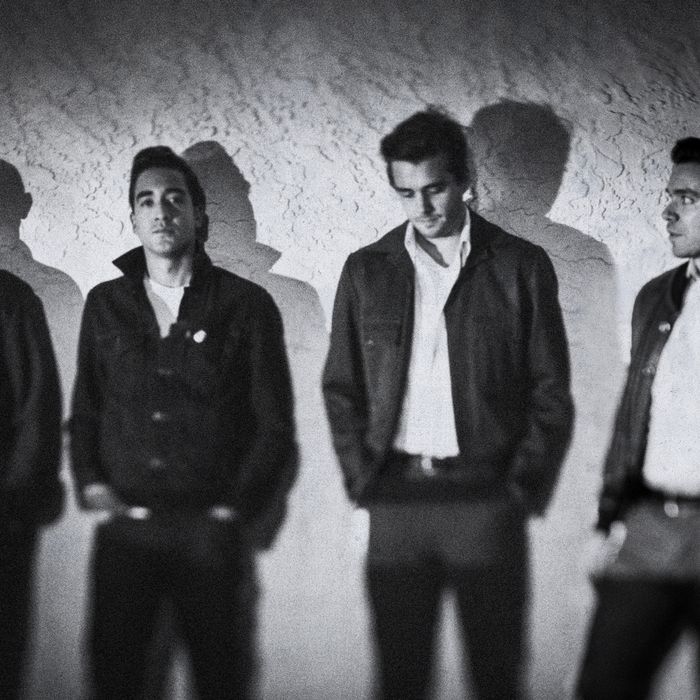 Ben Schneider, the nucleus of L.A.-based indie-folk act Lord Huron, has always filled his lyrics with expansive descriptions of natural landscapes and existential conflict. On Lord Huron's latest album, Strange Trails, those descriptions are often dark and apocalyptic, packed with creepy desert towns, scorched earth, and end-times premonitions. But Schneider never lets the weight of his subject matter dictate the mood of his songs; Lord Huron's music is delightfully easygoing. Smooth harmonies and simple acoustic arrangements come down like a gentle country breeze even when Schneider is singing about the end of the world.
Originally from Michigan, the handsome, bearded outdoorsman also has a flair for the literary. Lonesome Dreams, from 2012, was a concept album based entirely off of the fake Western fiction of George Ranger Johnson, an author of Schneider's imagination, and for whom Schneider created a website. For Lord Huron's latest outing, a five-song contribution to the A Walk in the Woods soundtrack, Schneider didn't have to dream up another author for inspiration. The film, directed by Ken Kwapis, is based on the travel writing of Bill Bryson, whose book of the same title chronicles his journey hiking the Appalachian Trail.
"It was a pleasure to see our music paired with the beautiful Appalachian imagery of the movie," Schneider tells Vulture of the collaboration. "Like Bryson's book and Ken's movie, 'The Birds Are Singing at Night' acknowledges our small and fleeting occupancy in the universe — a realization of the massive scale and ancientness of the natural world. Following the initial sense of insignificance and regret comes a sense of wonder and strange comfort."
Ancientness and mortality aside, the song "The Birds Are Singing at Night" is a slow-burning folk tune that captures the spiritual and transcendental intensity of America's most iconic mountain range. It starts with delicate strings, a sitar, and Schneider's echoey timbre. A skittering, low-slung percussion builds toward a triumphant salute that'll make you want to go find some nature (or maybe just watch an episode of Amazing Planet with a glass of wine). Listen to the song in the exclusive Vulture premiere below.
The A Walk in the Woods soundtrack will be released tomorrow via Varèse Sarabande. Lord Huron tours through the fall.