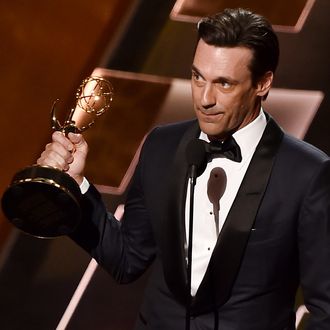 Jon Hamm, finally, finally.
Photo: Kevin Winter/Getty Images
Before this year's awards, Mad Men had 15 Emmys to its name, and seven consecutive swings and misses for Jon Hamm in the Outstanding Actor category. Where did those wins go? The show most notably took home Best Outstanding Drama for its first four seasons, along with three writing awards for Matthew Weiner. It's also picked up eight Creative Arts Emmys, half of which have gone to hairstyling. Other than that, not a single leading or supporting Mad Men actor has won an Emmy award. Not John Slattery, not Elisabeth Moss, and nope, not Christina Hendricks, though all have been nominated multiple times each.
This year Mad Men was up for six Prime-time Emmys for the second half of its final season. Let's run through them, shall we?
Two of those were for episodes up against one another in the same category — writing — and it lost to the Game of Thrones finale. Had The Americans or Better Call Saul won here, we may have understood, but this doesn't sit right. Christina Hendricks lost to Uzo Aduba for Outstanding Supporting Actress in a Drama, and Viola Davis beat Elisabeth Moss for Outstanding Actress in a Drama — all of these women deserve Emmys, and Aduba and Davis are perfect in their roles. Our hearts filled when they won. The loss that made least sense was Outstanding Drama, which went to Game of Thrones, an unusual pick for a season that even had some diehard fans saying they were done with the show. But Jon Hamm finally, finally, took home the gold for Best Outstanding Actor in a Drama, and poetic justice was served.
Readers, discuss. By our count, Mad Men deserved to win at least three Emmys this year. It won one. Do you think it deserved less? More? Or, as Don Draper would say, is that what the money is for?